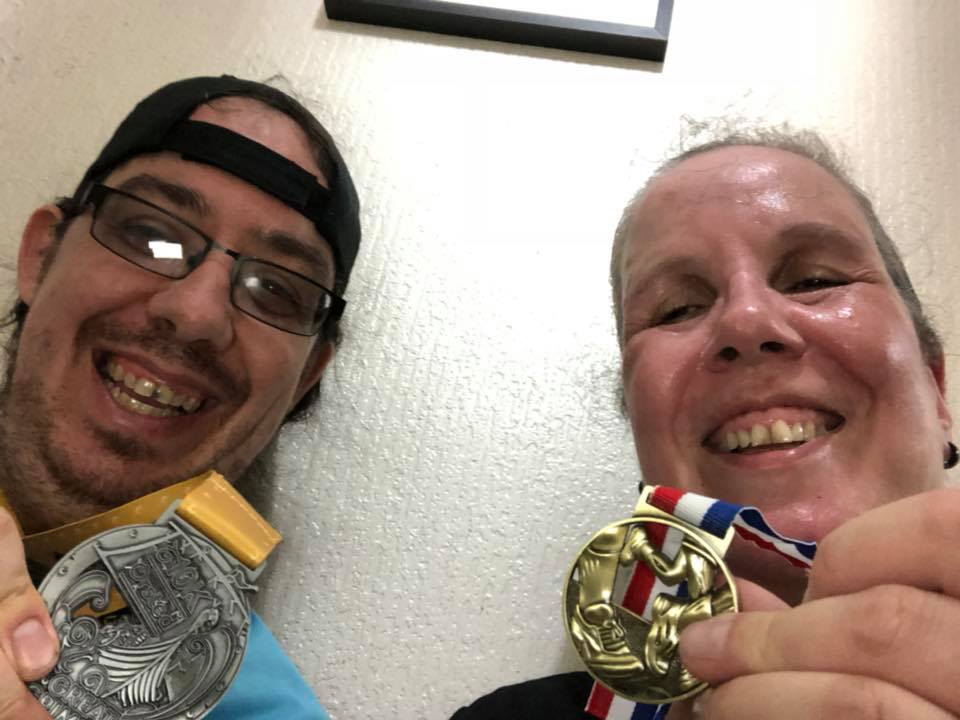 Friday 12 April marks 100 days until the streets of Grimsby start thumping to the rhythm of thousands of runners' feet for the fourth Ørsted Great Grimsby 10k.
People can sign up now at Great Grimsby 10k for just £17 or £15 for affiliated running club members.
To celebrate the 100 day countdown, here is the first in a series of stories from people who have been inspired by the Ørsted Great Grimsby 10k.
First time runner Ian Jackson, 39, of, Grimsby, shares his story of how the confidence he gained from running help him beat his fear of flying and even led to a marriage proposal. Ian said:
"2018 was one hell of a year for me, and it all started by signing up for the Great Grimsby 10K.

"Once I realised I could do the 10k I felt like I could do more.

"Knowing I had finished the GY10K encouraged me to take on other challenges.

"I beat my fear of flying and after that, I asked my girlfriend to marry me. Much to my relief, she said yes."
Ian added:
"The 2018 Grimsby run was my first ever 10k.

"It's something I'd wanted to do for years, but was always worried I wasn't good enough or fit enough.

"I finally signed up and trained at the gym for about four months. Having the run as a goal was great motivation, my fitness hugely improved.

"In February, my girlfriend bought me a step counter for my birthday which helped me keep track of my progress.

"For the next 4 months, I hit the gym at least three times a week.

"I lost three and a half stone, dropping from seventeen stone to thirteen and a half stone, all the while having this 10k as my goal.

"As race day got nearer I was nervous but excited, thinking about what I could achieve at the end of the race.

"I didn't care where I placed. I just wanted to feel that I had accomplished something for myself; just knowing that I had finished the Great Grimsby 10k was enough for me.

"Also, my girlfriend who's disabled ran the Fun Run on the same day, so we both achieved something we didn't think we would."
Ian's fiancé Carol Ross, 51 added:
"I walk with a stick and find it difficult to get around at the best of times.

"Wanting to challenge myself and do something together with my partner I signed up to the Fun Run.

"It was a massive challenge to me because of my disability.

"Getting to the end of my race was a huge achievement for me.

"I was totally blown away by all the support I got both along the route, and when I finished.

"I look forward to doing it again this year."
If you have a story to share about why you're running the Ørsted Great Grimsby 10k, please email info@tape2tape.co.uk.
The Ørsted Great Grimsby 10k is much more than a road race, it raises thousands of pounds for charity and creates a wealth of volunteering opportunities.
This year's event is set to be the greenest ever, as race organisers, working with headline sponsors Ørsted and North East Lincolnshire Council, take steps to reduce its environmental impact.
Emma Toulson, Lead Stakeholder Advisor for Ørsted UK, said:
"Each year, the Great Grimsby 10k goes from strength to strength and we are always delighted to see such enthusiasm and commitment from all the runners and volunteers who make the event such a success.

"This year we also want to focus on making the event the greenest yet, reducing and recycling plastic and paper compared to previous years. We can all do our part in the fight against climate change, so we feel that this is an important message to carry forward in everything we do.

"I'll be taking part in the race again this year along with colleagues from Ørsted and I'm looking forward to seeing some familiar faces alongside plenty of new ones."
The 2019 Ørsted Great Grimsby 10K takes place on Sunday 21 July 2019 and starts at 10am outside Grimsby Town Hall.
The entry limit is 5,000 places, making it one of the biggest town centre races in the region.
The run is well supplied by water, sweet and sponge stations and runners receive an awesome t-shirt and medal at the end.
Race director Nicola Pattison, from organisers Tape2Tape, said:
"As a race director and a runner myself, I've heard so many amazing stories from inspirational people about why they run and how running has transformed their lives.

"We'll be sharing some of these stories in the 100 days between now and race day and we're always keen to hear more.

"It's not only runners who have seen their lives changed by the race, many volunteers have also found the experience has given them a huge personal boost.

"For people who've never run before, 100 days gives plenty of time to train for a 10k run.

"I urge anyone who is considering entering to sign up now and give it a go, there are lots of local groups and clubs who have regular groups for beginners."
Last year's Ørsted Great Grimsby 10K helped raise around £15,000 directly for the seven charities from race entries, fundraiser places and other initiatives.
A £1 donation is made from every race entry into a fund shared between the event's charity partners – Harbour Place, RNLI, Marie Curie, St Andrew's Hospice, Grimsby Rotary Club, The Health Tree Foundation and Inspire TCI.
The total amount raised for charity is believed to be much higher after the many people taking part on behalf of charities are taken into account.
Hundreds of volunteering opportunities are also created for local people making the Ørsted Great Grimsby 10k much more than a race.
Volunteers can sign up at www.tape2tape.co.uk/volunteer.
Entry fees are kept low in comparison to other race events thanks to the generosity of the sponsors and all finishers are awarded a top quality medal and technical t-shirt.
There's is also a Family Fun run that starts and finishes under the same arches as the main race.
You can follow the Ørsted Great Grimsby 10k using #GY10K on social media for news and race photos:
Facebook: Tape2TapeEvents
Instagram: @tape2tapeuk
Twitter: @Tape2TapeEvents