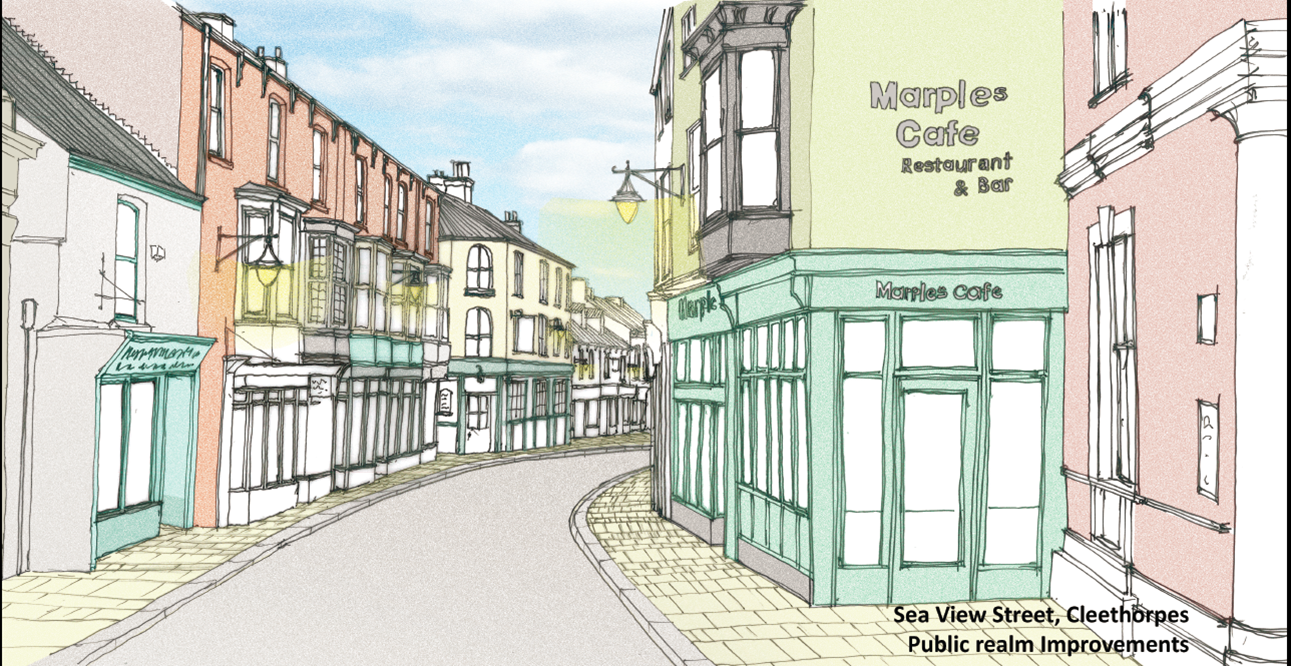 A £7.2million programme of works in Cleethorpes was showcased at a launch event for the programmes at the Discovery Centre tonight [Weds 21 Mar].
Exciting changes to the resort in terms of improvements to the environment, work to the town centre streets, enhancements to historic buildings and new events for the area were outlined by the council on the evening.
The funding has come from a range of sources. It was announced earlier this year that CoastNEL, a local partnership between the council, businesses, arts, heritage and tourism groups, had been awarded £3.8million from the Coastal Communities Fund (CCF). The CCF will cover a wide range of projects to enhance the resort and its programme of events on offer, including:
• £3.3million is earmarked to be spent improving the public realm and introducing public art at key arrival sites, the promenades and in the historic town centre streets. This work will build on the £2.77million Townscape Heritage programme due to start in late 2017 / early 2018.
• £332K will be put towards marketing and events to bring new visitors to the area and help to extend the traditional tourist season.
• Plans to transform a beach-front kiosk into an eye-catching entertainment venue.
This is complemented by a further £0.5million investment through the National Stations Improvement Programme (Network Rail), the Railway Heritage Trust Fund and the Council to create a new cycle hub at Cleethorpes train station.
More recently it was announced £1.9million has been awarded to Cleethorpes, through the Heritage Lottery Fund (HLF), with an additional £1million contribution from the council put towards the Townscape Heritage programme.
This funding will be used to conserve and enhance historic buildings in areas of Cleethorpes with grants of up to 80% available to property owners and tenants. The programme will also see improvements to the surrounding public realm on Alexandra Road and Sea View Street.
Cllr Matt Patrick, portfolio holder for tourism, explained how the work over the next few years will enhance Cleethorpes. "Exciting times are ahead for North East Lincolnshire and no more so than for Cleethorpes, which is the 'jewel in the crown' in terms of our local tourism offer.
"The resort's potential is significant and things are moving in the right direction. Visitor numbers to North East Lincolnshire have topped 10m a year for the first time ever. The economic impact of tourism in North East Lincolnshire has seen a significant increase – up by more than £23m over the previous year to a record high of £560m.
"Tourism is a hugely important sector for us. With the work we're doing in partnership with businesses and community groups and the major funding boosts announced last year, we're doing all we can to make sure this trend carries on.
"However, we recognise that we still have work to do in terms of extending the season, and creating more year-round tourism opportunities and this is something we're working on as part of these projects."
Lawrence Brown, Chair of CoastNEL said, "The Coastal Communities Funding is a unique opportunity to help us grow the quality of life offer for our investors, existing businesses and residents as well as our tourists. We want to use this award to build on the wave of confidence in Cleethorpes and the existing planned development as well as getting the public and businesses engaged in supporting the regeneration of the area."