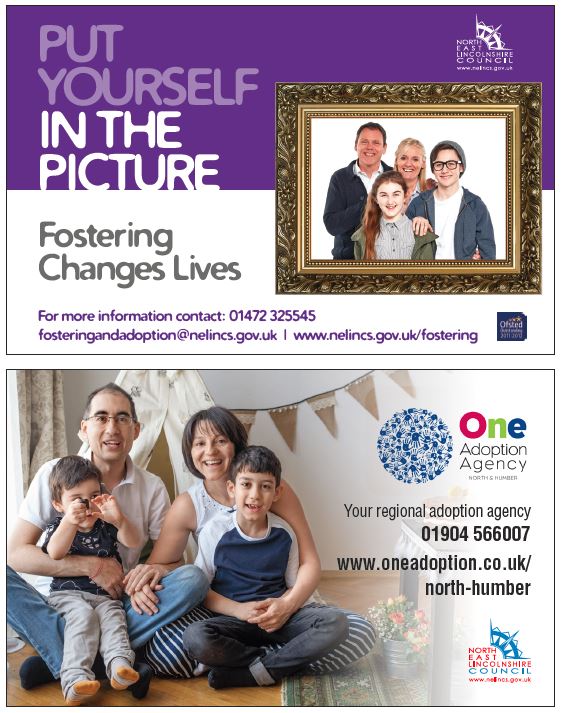 North East Lincolnshire Council's fostering and adoption team are holding an event on Thursday March 15 from 3pm to 7pm at Lucarly's, Wilton Road, Humberston, Grimsby.
Those who would like to consider fostering and adoption are invited to come along to find out what support and guidance the team can provide.
Glynis Tinsley, fostering lead for the council said:
"We look for people from all different backgrounds, religions, genders and those from the LGBT community to provide supportive homes where children can thrive.

"People who choose to foster make a tremendous difference to the lives of children in our care, giving them a second chance at life.

"Fostering is a rewarding choice and our team is here to offer support throughout your fostering career.

"We want to break down the barriers to foster care and for this reason the financial support we offer reflects the demands placed on the foster carers.

"In addition, we offer different types of fostering depending on how much time you can commit and the skills you wish to develop.

"It doesn't matter if you are single or married, male or female, if you are 21 or older and have an interest in fostering we would like to hear from you."
Also at the event will be members of the adoption team. Jane Broderick, adoption lead said:
"Children in care desperately need loving families and stable homes.

"Our adoption team is there to ensure that you get matched with a child who can become a wonderful part of your family."

This week is LGBT adoption and fostering week.

Jane added: "The LGBT community represent an important group of people who chose to foster and adopt in North East Lincolnshire and across the UK.

"When exploring different routes to growing their family, lesbian, gay, bisexual, and transgender individuals and couples are urged to consider fostering and adoption.

"There are so many children out there who would love to have you as parents.

"As a part of the regional adoption agency, One Adoption North and Humber, we are able to place children from a wider area into loving homes in a timelier manner."
When asked about people's perceptions of fostering in North East Lincolnshire Glynis added:
"We have been speaking to individuals in the community about what they think fostering is and there are a lot of misconceptions.

"Many people think that they are too old to foster. However, there is no upper age limit. Older people with children who have left home may make excellent foster carers.

"The event is open to everyone. Whether this is a new possibility or one you have previously considered, come along and explore fostering and adoption.

"Please tell your friends and family about our event, helping families is a community effort.

"We understand the challenges that can come with fostering and adoption and that is why our professional team are there to support you every step of the way.

"We are always looking for adopters and foster carers; there is no better time than now. Please get in touch."
The event will be held at Lucarly's, Wilton Road, Humberston, Grimsby, DN36 4AW. March 15, from 3pm to 7pm.
North East Lincolnshire Council also holds fostering and adoption events on the first Tuesday of every month at Tesco's Community Room, Hewitts Avenue, Cleethorpes North Road, Cleethorpes Road, DN35 9QR.
Please make contact to find out about what fostering can do for you:
01472 325545- Open Monday to Thursday 9am-5pm, Friday 9am to 4.30pm
fosteringandadoption@nelincs.gov.uk
Enquire about adoption with our regional adoption agency One Adoption North and Humber on 01904 566007
www.oneadoption.co.uk/north-humber/about-one-adoption-north-humber