Recycling
What goes in your recycling boxes
To find out what goes in your recycling boxes go to our Recycling at home page or watch our What you can and can't recycle video.
Replacement recycling boxes
If you require additional recycling boxes, please contact us. Up to three free recycling containers can be provided in a year. You should clearly label your boxes with your house number to help prevent theft.
To request replacement boxes or for more information please call the Waste Services hotline 01472326288 option 2.
Where to leave your boxes on collection days
On the boundary of your property on the footpath side, not blocking access unless otherwise agreed with waste management. If you live in a terrace property, put the boxes at the end of the alley nearest your home (outside any gates), by 7 am on your collection day. It is not classed as missed collection if residents do not properly present their boxes or bins.  Find your recycling collection day and retrieve to your property as soon after emptying as possible.
Community recycling centres
The community recycling centres (CRC) are the sites you can go to take your waste and recycling. Our recycling centres, also known as the tip or dump, are on Estuary Way, Grimsby and Queens Road Immingham. To use the recycling centres you will need to follow our rules which can be seen in our Recycling Centre User Guidelines (PDF).
Opening times – Monday to Sunday, 8am to 6pm
Estuary Way, Grimsby – Community Recycling Centre
Queens Road, Immingham – Community Recycling Centre
From 1 February 2019 regular users of the Community recycling centre bringing household rubbish in a van or trailer must complete an online household waste form prior to coming to the site.
---
On arrival at the site all vans, cars with trailers, pick-up trucks, and large four wheel drive vehicles will have to declare what waste they're bringing to the site, and that the waste has been generated from their own residential home, trade or commercial waste will not be accepted. All waste declared will be electronically recorded and monitored, misuse of of the Community Recycling Centre may lead to legal proceedings.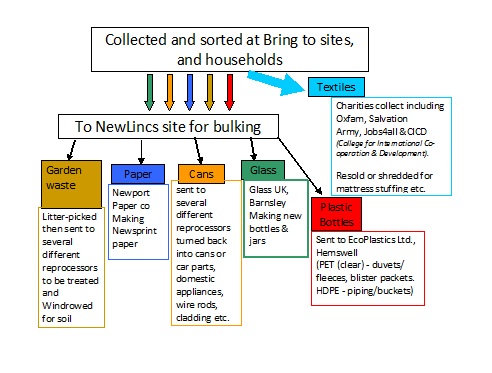 The diagram gives sample destinations, reprocessors used may vary as contracts change to ensure the best prices.  All reprocessors used are based in the UK and as close as possible yet retaining best price – samples of reprocessors used are available it the related document section below.
Recyclable items, cans and plastic bottles, paper and cardboard and glass bottles and jars, are separated at the kerbside into different compartments on the recycling vehicle. This method of collecting means that the material streams we send to re-processors are good quality, clean materials.
These items are used by numerous companies to make new products, reducing the amount of new material required.
Your recyclable items could be back on the shelves within days as new items, newspapers for example can typically be back on sale within a week and cans within six weeks.
Alternatively your items may be used to make something completely different. 25 plastic bottles are needed to make a fleece jacket, and your tins and cans could be melted down to make boats or planes. Even glass has unexpected uses, as it can be used in building new roads.
Reprocessor information (xls) – Your recycling goes to reprocessors who then find markets to sell it on. This file contains information on who the reprocessors are and what your recycling becomes.
If you cannot find what you are looking for above you can call the number below and select the relevant option:
Telephone: 01472 326288
Bin or box collections including missed collections
New or replacement bin, recycling box or arrange a repair
Recycling enquiries
Bulky waste, white goods collection or clinical waste & sharps collection
Community recycling centres
Domestic asbestos disposal
Social media:
Twitter @NELCouncil or Facebook www.facebook.com/NELCouncil.
Opening times: Monday to Friday 8.30 am to 5 pm except bank holidays