Skip It!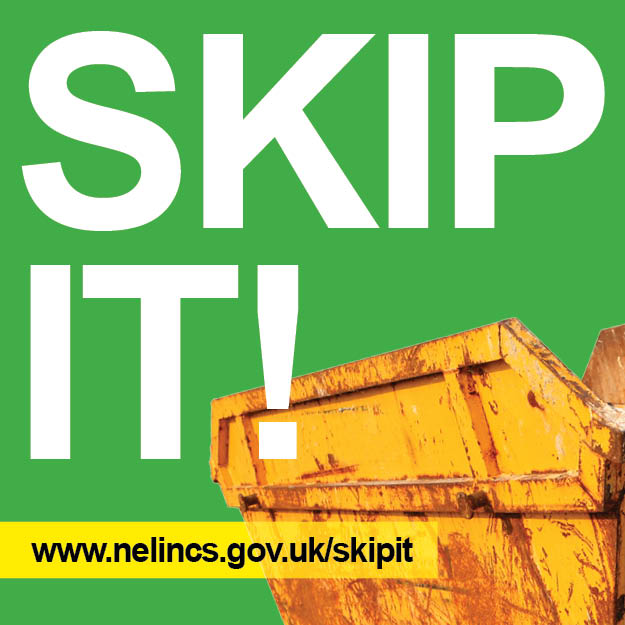 Skip It! A new way to get rid of your household junk
In the summer of 2018, we launched a new and easy way to help people get rid of their household junk.
Skip It was a three month pilot project that gave people the chance to dispose of unwanted household items and learn more about how we can all do our bit to create a cleaner, greener North East Lincolnshire.
Waste such as furniture, garden clippings, small electrical items, recycling, mattresses and white goods was collected at designated locations in each ward.
The pop-up collection points were set up for a day in each of the area's 15 wards. Five wards were visited in August, five in September and another five in October.
We are now reviewing the Skip It pilot project to see what worked well, where improvements can be made and how it might continue in the future.
What happens at Skip It?
People visiting the collection points will find two large skips, two vans for white goods, mattresses and furniture, recycling bins and a vehicle for garden waste. They will also be able to pick up recycling boxes.
There will be an exhibition trailer where people can find out more about how the Council manages waste and recycling, hear from community groups who organise litter picks and other activities in the area, and also find out about local wildlife and habitats.
How much we collected during the first week of Skip It
More than 64 tonnes of rubbish was collected at North East Lincolnshire Council's first week of Skip It events. Read more about it in the news section of our website.
Site rules
It's essential that people taking waste and recycling to the Skip It collection points follow the site instructions and listen to instructions from staff to keep safe.
No trade waste will be taken or other controlled items (including asbestos, soil and rubble, paints, oils, tyres, fuels, hazardous waste, car batteries, plaster board, builders vehicles, car parts, gas bottles, liquids).
Where have we been?
The first Skip It days took place in August, September and October at the following locations:
Monday 20 August, Grimsby Auditorium car park, Cromwell Road, Grimsby DN31 2BH
Tuesday 21 August, Grant Thorold Park, Rutland Street, Grimsby DN32 7NE
Wednesday 22 August, Duke of York Gardens, Corporation Road, Grimsby DN31 2PZ
Thursday 23 August, Sidney Park, (Park View entrance), Cleethorpes DN35 7TD
Friday 24 August, Barret Recreation Ground, Park Avenue, Grimsby DN32 0BZ
Monday 17 September, Wingate Road car park, The Willows, Grimsby DN37 9DN
Tuesday 18 September, Weelsby Woods, Weelsby Road, Grimsby DN32 8PW
Wednesday 19 September, Sutcliffe Ave shops, Grimsby DN33 1AD
Thursday 20 September, The Cloisters, Church Lane, Humberston, Grimsby DN36 4HR
Friday 21 September, Thrunscoe car park, Highgate, Cleethorpes DN35 8PA
Monday 22 October, Layby opposite Morrison's off Grimsby Road, Grimsby DN37 7SQ
Tuesday 23 October, Haverstoe Park, Aldrich Road, Cleethorpes DN35 0DP
Wednesday 24 October, Coniston Avenue shops, Grimsby DN33 3EE
Thursday 25 October, Worsley Road car park, Immingham DN40 1DD
Friday 26 October, Neville Turner Way (outside the Waltham Park Bowls Club), Waltham, Grimsby DN37 0YJ
The story of waste and recycling
A video about the journey waste and recycling takes from your kerbside to where it's sorted and processed has been made as part of the Skip It project.