What is council tax and who pays it?
Council tax is a tax charged on households by local authorities, based on the estimated value of a property and the number of people living in it. Most domestic buildings are subject to council tax.
There is one charge per dwelling, whether it is a house, bungalow, flat, maisonette, mobile home or houseboat, and whether it is owned or rented
Each dwelling has been allocated one of eight bands (bands A to H) according to its estimated open market value on 1 April 1991. These bands are decided by the valuation office
Your council tax bill shows which band applies to your dwelling
The money raised through council tax is part of the overall amount of money spent in North East Lincolnshire to provide services for local people. Other money comes from central government funds including the Revenue Support Grant and some of the money collected from non-domestic rates (business rates).
About your Council Tax bill
Council Tax payment is calculated for 1 April of each year, to cover the next 12 months. Bills are normally paid in 10 monthly instalments between April and January.
If you wish to pay your bill in full please pay by the first instalment date.
If you wish to pay half-yearly please ensure the first payment is made by the first instalment date and the second payment is made on or before 1 September.
If you would like to spread your payments over the full financial year (up to March) please contact the Council Tax Team on counciltax@nelincs.gov.uk or call 0300 3030164 option 1.
The amount of council tax payable is based upon the following:
The total value of taxable properties in the area (the tax base)
The amount required to fund the service requirements of North East Lincolnshire Council, Humberside Police and the Humberside Fire Authority
The amount required to fund the local town/parish councils (in certain areas)
The tax base is calculated using the following:
A council tax band D equivalent charge is set by members
This is then used, in accordance with the property bands determined by the Valuation Office, to work out the charges for the other bands
So a property in Band A pays 6/9ths the amount for a Band D property and so forth, as shown in the multiplier in the table below
Our annual council tax & non-domestic rates leaflets, available in the related documents section of this page, give more information on how the band charges are worked out and also how the money raised by council tax is spent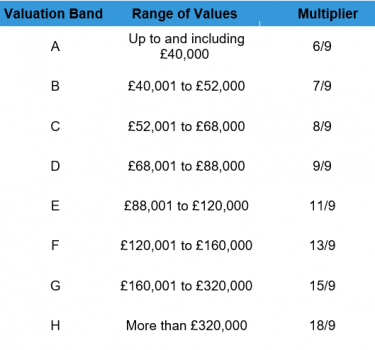 Who pays council tax?
Normally the people living in the property (the liable persons) will pay the council tax. It must be their sole or main residence and they must be over 18 years of age.
If two or more people have the same interest in the property then they are jointly liable. For example, if they are:
joint owners
joint tenants
married or living together as though married; or
have a civil partnership
If the property is empty, or it is no-one's main home, the owner is responsible for paying the bill.  The owner is also responsible:
where the property is occupied by more than one household
where the residents pay rent separately for different parts of the dwelling; and
where the households share cooking or washing facilities
Council tax legislation
The administration of council tax follows the legislation set out in the local government finance act 1992 (99/03) and the council tax (amendment and enforcement) regulations 1992. For more information about this legislation and other legislation relating to council tax you can visit www.legislation.gov.uk/
Council Tax Liability and Billing team (telephone and postal enquiries only), Local Taxation and Benefits, Municipal Offices, Town Hall Square, Grimsby, DN31 1HU
Email: counciltax@nelincs.gov.uk
Telephone: 0300 3030164 option 5
Telephone opening times: Monday to Friday 9 am to 4:30 pm, except bank holidays