COVID-19: Don't get caught out by fraudsters during coronavirus outbreak
4:19 pm, Monday, 30th March 2020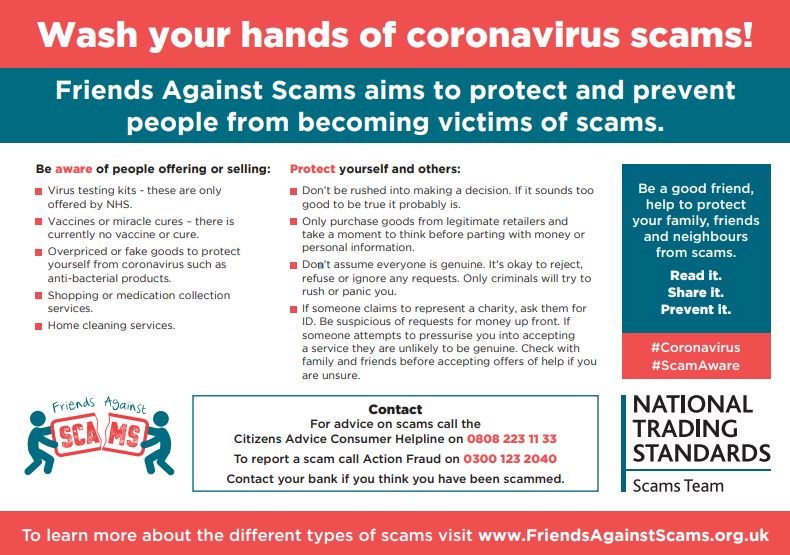 Trading Standards officers are continuing to warn people of fraudsters following a rise in coronavirus-related scams that seek to benefit from the public's concern and uncertainty over COVID-19.
Criminals have been exploiting fears about the pandemic to prey on members of the public, particularly older and vulnerable people who are isolated from family and friends.
Any number of frauds could increase as more people work from home and vulnerable and elderly people self-isolate.
Fraudsters are targeting people looking to buy medical supplies online, sending emails offering fake medical support and scamming people who may be vulnerable or increasingly isolated at home.
These frauds try to lure you in with offers that look too good to be true, such as high return investments and 'healthcare opportunities', or make appeals for you to support bogus charities or those who are ill.
Scammers are also using Government branding to try to trick people, including reports of using HMRC branding to make fake offers of financial support through unsolicited emails, phone calls and text messages.
Communities are being urged to look out for signs of neighbours being targeted by doorstep criminals.
While there are genuine groups of volunteers providing help during self-isolation, there have been reports of criminals preying on residents – often older people or people living with long-term health conditions – by cold-calling at their homes and offering to go to the shops for them.
The criminals often claim to represent charities to help them appear legitimate before taking the victim's money.
There are genuine charities providing support, so consumers should be vigilant and ask for ID from anyone claiming to represent a charity.
Be assured that those making contact with vulnerable people about receiving support from the local 'shielding hub' will be reliably identifiable and will never ask for bank details or money.
There has also recently been a case reported in East Yorkshire of a motorist being stopped by people impersonating police officers trying to demand a £60 fine for non-essential travel.
A huge increase in the number of people working remotely means more people will be vulnerable to computer service fraud where criminals will try to convince you to provide access to your computer or divulge your login details and passwords. It is also anticipated that there will be a surge in phishing scams or calls claiming to be from Government departments offering grants, tax rebates, or compensation.
Councillor Ron Shepherd, portfolio holder for safer and stronger communities at North East Lincolnshire Council, said:
"I ask the public to be extra vigilant against fraud, particularly when sharing their financial and personal information as criminals seek to capitalise on the pandemic.
"Although there haven't been any reports of such activity in North East Lincolnshire, we are aware people have been receiving fake text messages from HMRC and about free school meals. We need individuals and businesses to be fully aware and prepared. You should always think very carefully before you hand over your money or your personal details.
"We are fully aware that fraudsters have been increasingly targeting individuals and organisations with offers of support and putting vulnerable people at risk. But you can be assured that those making contact with vulnerable people about receiving support from the 'shielding hub' will be reliably identifiable and that they will never ask for bank details or money."
Stop: Taking a moment to stop and think before parting with your money or information could keep you safe.
Challenge: Could it be fake? It's ok to reject, refuse or ignore any requests. Only criminals will try to rush or panic you.
Protect: Contact your bank immediately if you think you've fallen for a scam and report it to Action Fraud.
Your bank or the police will never ask you to transfer money or move it to a safe account.
You can also contact local Victim Support on 0300 303 1976.