Economic recovery plan: Replenish
Building a strong future
Action is needed to now to address the long-term skill needs for the future workforce.
NEL major sectors at risk of automation include manufacturing, logistics, although new roles will emerge to replace redundant roles.
Approximately one third (383,833 jobs) of the total England forecast of new green energy jobs will be in close proximity to North East Lincolnshire by 2050.
Promotion of STEM subjects in primary and secondary education is critical to equip young people for the future roles.
Predictions show 60,700 more workers qualified to Level 4+ within the next ten years (2014-2024) in the Humber – Source: Humber LEP Skills Advisory Panel Report via Working Futures, UKCES (2016). Working Futures report predicts 46% of jobs in the Humber will require a level 4+ qualifications.
Grimsby is at the heart of the largest green and low carbon cluster in UK
Green Energy Hub – Outline Proposal led by CATCH to drive inward investment, prepare and equip future workforce
Grimsby Combined Heat and Power Network – Heat Mapping undertaken
Myenergi Ltd local expansion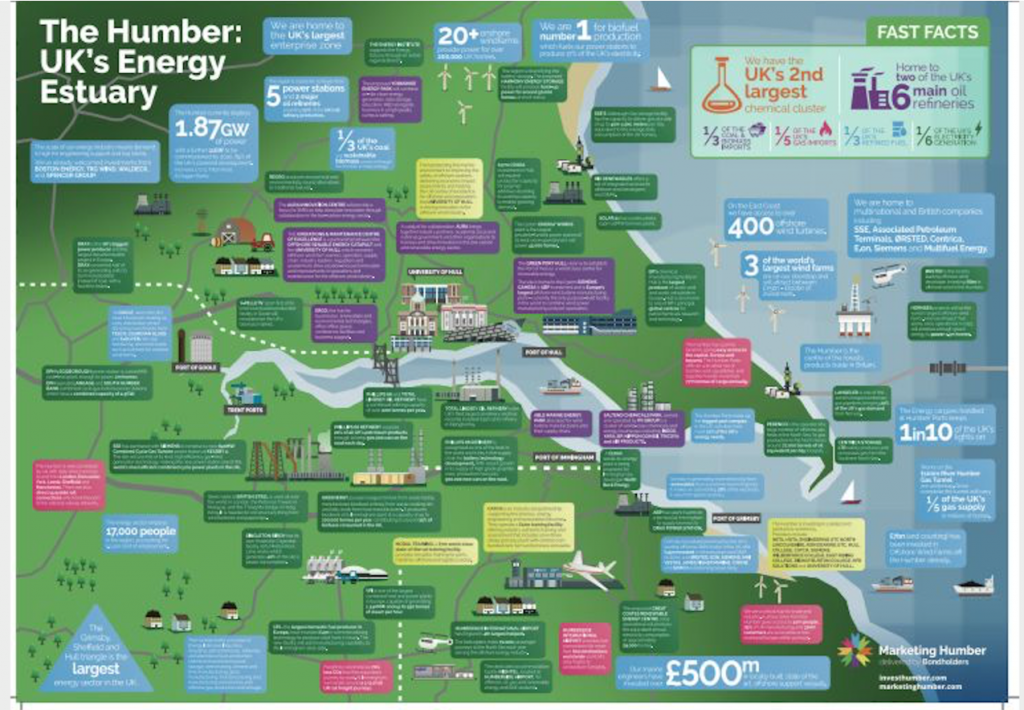 If successful in securing a Freeport in the Humber, it will create hotbeds of innovation and Research and Development
University of Lincoln Innovation and Productivity Programme
Innovate UK Industrial Strategy Challenge Fund
Funding and support across all industries on UKRI
NEL Broadband coverage – best in Greater Lincolnshire region
Grimsby Institute recognised as a Microsoft Demonstation college and an EdTech centre supporting Digital Skills in education and business
NEL Highways Investments include major road improvements to A18
UK 5G roll out
North East Lincolnshire geographic position poised as major UK import and export gateway
HMRC Transition Videos – HMRC has produced a playlist of videos that outline the new trading processes and requirements that were introduced on 1 January 2021
BEIS video explainers – BEIS has launched a series of on-demand videos to help UK businesses understand the new rules for doing business with Europe. The videos cover 18 topic areas with additional information for different sectors
Transition Period Helplines – Cabinet Office has published a central Brexit Transition Helplines page, organised by themes and key actions
Rules of Origin Resources – HMRC has produced information explaining Rules of Origin and the procedures to help businesses understand Rules of Origin and how it applies to their supply chains
DIT international business trade support on Great.gov.uk
UK Global Trade Agreements GOV.UK – UK Trade agreements
GOV.UK – Business Transition arrangements on GOV.UK – Import export
E-Factor – Local Support for businesses wanting to explore opportunities to automate can contact the Business Growth Hub advisers
University of Lincoln offers support via Innovation and Productivity Programme for SME's
Made Smarter – Help for manufacturers of tomorrow to use technology to streamline their processes