Galleries, exhibitions and collections
Museum collections
The Museum Service holds the collection of museum objects for the towns of Grimsby, Cleethorpes, Immingham and the surrounding villages, which make up the area of North East Lincolnshire.
This wide-ranging collection includes artworks, costumes, ship models, books, social history objects, fishing-related objects and much more. It is currently kept in a purpose-built, climate-controlled and secure store.
There are a couple of notable collections:
The Doughty Collection is one. This collection of maritime art, ship models and chinaware was bequested to the town of Grimsby by Wilfred Vere Doughty on his death in 1941. It had been put together by Wilfred and his father, former Great Grimsby MP Sir George Doughty. Both were prominent and wealthy businessmen and the collection was left to the town to be the foundation of the museum collection. The artworks and ship models are some of the most famous items in the collection and are frequently used by the Museum Service in temporary exhibitions
The Joan Sleigh Bequest, which is made up of the costumes that were collected by this well-known and respected local costume and textile teacher. Over her lifetime, she built up an extremely large private collection of clothing (which covers hundreds of years) and on her death it was left to the town in the care of the Museum Service
Exhibitions
The Fishing Heritage Centre has two exhibition galleries, Muriel Barker Gallery and the Cafe Gallery. The museum hosts temporary exhibitions ranging from a mixture of travelling shows and exhibitions created from the Museum Service's own collections and works by local artists and organisations.
Last admission into the Galleries is one hour prior to closing time.
The galleries are also available to rent for exhibitions. For more details about exhibitions or collections contact Louise Bowen on 01472 323560 or louise.bowen@nelincs.gov.uk.

Saturday 1st April to Sunday 18th June 2017
An exciting opportunity to see work by renowned landscape artists on loan from the Arts Council Collection alongside work by artists deeply engaged with the landscapes of North and Northeast Lincolnshire. Never Ends is a consideration of the ways in which personal, industrial and recreational memories linger in place.
In their series, Far & Near Linda Ingham and David Power explore our Expressions of Continual Bonds to Absent Others from their studies of memorial benches. The work is participatory, including a bespoke bench which will be dressed by contributed memorials, and includes film, music and visual art. In Outfalls Harriet Tarlo and Judith Tucker present poems and drawings from their collaborative work on the Louth Navigation.
They are interested in the relationship between the original River Ludd and the canal itself as its industrial past becomes absorbed into semi-wilderness, creating niches for local flora and fauna in its culverts, bridges and locks. We are honoured to present alongside this work pieces by Andy Goldsworthy; Richard Long; Martin Parr; Jane Harris; Brian Alterio; Birgit Skiold and Hamish Fulton.
Please note that this exhibition may be closed between around 2pm and 3pm. Please contact the Fishing Heritage Centre for more details.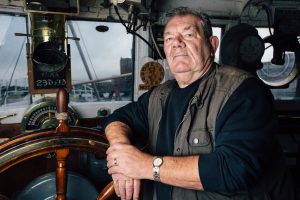 Steaming Home: A series of portraits and interviews celebrating the lifestyle, and character, of the deep water fishermen.
Saturday 24th June to 10th September 2017
"If you do one trip or if you do forty years, once you've done one trip on a trawler… you never forget it. It's with you for the rest of your life. Fishermen could always step aboard a trawler and fit straight in. It's something that's in your blood and it stays there."
Showcasing the work of local photographer Ash Gollings, Steaming Home is a series of photographs and interviews exploring the story of Grimsby's iconic fishing industry. Tragic, thrilling and funny throughout; Steaming Home brings true stories and memories from the now, retired trawlermen, who were working during the 'golden era' of deep water fishing.


An Exhibition of Beautiful Ceramics from the Collections of North East Lincolnshire Museum Service
Open from 11 June 2016 to 3 June 2018
Elegance and Beauty brings together ceramics from across 200 years from the late 1600s to the late 1800s. View these beautiful objects alongside some stunning artworks from the museum collection. There is plenty to keep little ones occupied with a gallery quiz, puzzles, books, games and handling objects. The exhibition dressing up area gives children the chance to try on replica Regency clothing.

24 January 2017 to 30 April 2017
Collected Women displays work by 12 female artists based in North East- and North Lincolnshire who have been invited to respond to Louise Bourgeois' prints – the Autobiographical Series and 12 Drypoints, which make up the Hayward Gallery Touring show of her work. The exhibition also features a quilt created by Nicky Dillerstone through working with women from diverse backgrounds, contributed to also with elements by textile artists based in the region.

Tuesday 4th July to Sunday 24th September 2017
Renowned artist Dale Mackie brings together his iconic images of trawlers and the men that worked at sea, telling the tale in paintings & drawings that take you from the fishing port to the deep waters of the fishing grounds of the industry that once thrived in his part of the country.
Grimsby Fishing Heritage Centre, Alexandra Dock, Grimsby, North East Lincolnshire, DN31 1UZ
Email: fhc@nelincs.gov.uk
Telephone: 01472 323345
Opening times:
Winter – 1st November to 31st March
Tuesday to Friday 10 am – 4 pm (Closed Mondays)
Saturday and Sunday 10 am – 4 pm (including bank holidays)
Summer – 1st April to 31st October
Tuesday to Sunday 10 am – 5 pm (Closed Mondays)
Bank holiday Mondays open 10 am – 5 pm