Galleries, exhibitions and collections
Museum collections
The Museum Service holds the collection of museum objects for the towns of Grimsby, Cleethorpes, Immingham and the surrounding villages, which make up the area of North East Lincolnshire.
This wide-ranging collection includes artworks, costumes, ship models, books, social history objects, fishing-related objects and much more. It is currently kept in a purpose-built, climate-controlled and secure store.
There are a couple of notable collections:
The Doughty Collection is one. This collection of maritime art, ship models and chinaware was bequested to the town of Grimsby by Wilfred Vere Doughty on his death in 1941. It had been put together by Wilfred and his father, former Great Grimsby MP Sir George Doughty. Both were prominent and wealthy businessmen and the collection was left to the town to be the foundation of the museum collection. The artworks and ship models are some of the most famous items in the collection and are frequently used by the Museum Service in temporary exhibitions
The Joan Sleigh Bequest, which is made up of the costumes that were collected by this well-known and respected local costume and textile teacher. Over her lifetime, she built up an extremely large private collection of clothing (which covers hundreds of years) and on her death it was left to the town in the care of the Museum Service
Exhibitions
The Fishing Heritage Centre has three changing exhibition galleries, Muriel Barker Gallery, Doughty Gallery and the Cafe Gallery. The museum hosts temporary exhibitions ranging from a mixture of travelling shows and exhibitions created from the Museum Service's own collections and works by local artists and organisations.
Last admission into the Galleries is one hour prior to closing time.
The galleries are also available to rent for exhibitions. For more details about exhibitions or collections contact Louise Bowen on 01472 323560 or louise.bowen@nelincs.gov.uk.
Saturday 18 August 2018 to Sunday 13 January 2019
The final exhibition looking at the impact of Grimsby trawlers during the First World War. Between August 2014 and November 2018 a team of divers and historians investigated over 300 Grimsby`s trawlers that were lost in World War One. The exhibition features items retrieved from the wrecks alongside objects from the collections of North East Lincolnshire Museum Service.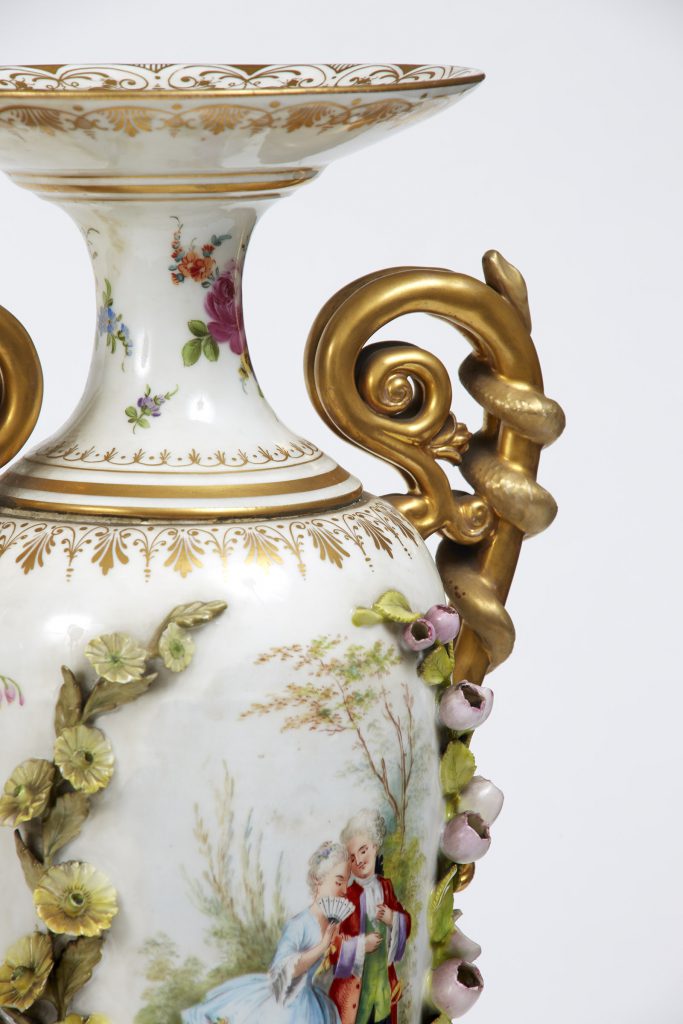 An Exhibition of Beautiful Ceramics from the Collections of North East Lincolnshire Museum Service
Open from 11 June 2016 to 3 June 2018
Elegance and Beauty brings together ceramics from across 200 years from the late 1600s to the late 1800s. View these beautiful objects alongside some stunning artworks from the museum collection. There is plenty to keep little ones occupied with a gallery quiz, puzzles, books, games and handling objects. The exhibition dressing up area gives children the chance to try on replica Regency clothing.
24 July to Sunday 7 October 2018
Lincolnshire Aviation Heritage Centre presents two of their traveling exhibition examining the role of local people and industries during World War One.
Tuesday 24 July to Sunday 26th August
Learn how Lincolnshire responded to threat from enemy airships roaming the skies above it during World War One, and explore the stories of the county's air heroes. Watch original footage of aircraft production in Lincolnshire during 1915-18, when the county was one of the world's largest aircraft manufacturing centres, and see models of two famous Sopwith Camel aircraft built in Lincoln.
Wednesday 29th August to Sunday 7 October
Lincolnshire was a major industrial centre during World War One, where munitions were manufactured and the battle tank was invented. The county was also one of the world's largest aircraft production centres during 1915-18, and many women built aircraft at Robey & Co, Clayton & Shuttleworth Ltd, Ruston Proctor & Co in Lincoln, and Marshalls in Gainsborough.
Watch original footage of aircraft production in Lincolnshire during this period and explore the stories of the women involved. Learn about how women's contribution to the war effort changed their status in society – and how it did not.
Grimsby Fishing Heritage Centre, Alexandra Dock, Grimsby, North East Lincolnshire, DN31 1UZ
Email: fhc@nelincs.gov.uk
Telephone: 01472 323345
Opening times:
Winter – 1st November to 31st March
Tuesday to Friday 10 am – 4 pm (Closed Mondays)
Saturday and Sunday 10 am – 4 pm (including bank holidays)
Summer – 1st April to 31st October
Tuesday to Sunday 10 am – 5 pm (Closed Mondays)
Bank holiday Mondays open 10 am – 5 pm