Grimsby regeneration kickstarted with multi-million pound boost
11:04 am, Thursday, 11th July 2019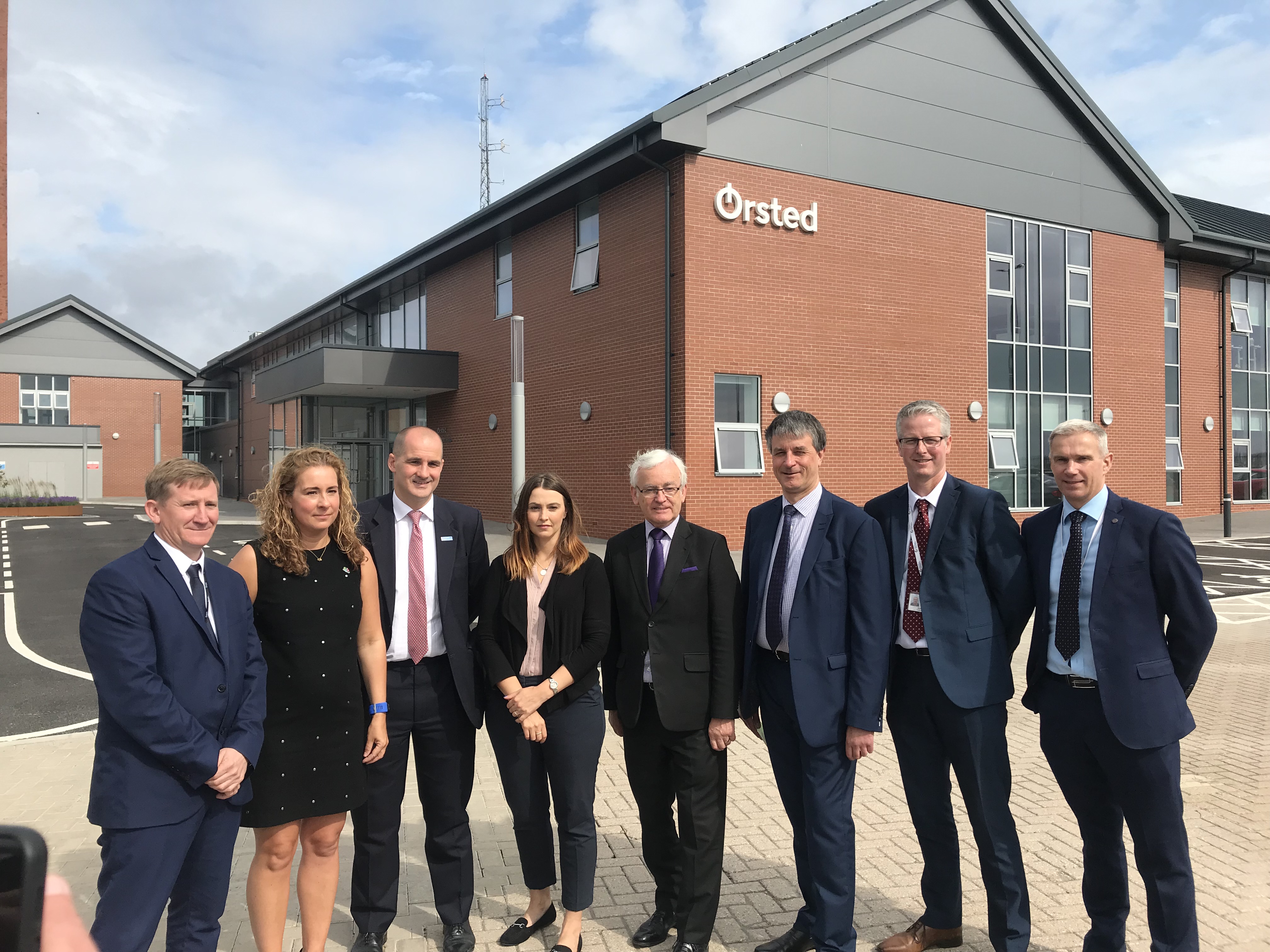 Government announces next phase of Grimsby Town Deal, awarding an extra £3.75 million to kickstart major regeneration plans for town centre, with new plans including a brand-new Youth Zone
Town Deal is a key part of Government's modern Industrial Strategy to boost productivity across the UK by backing business and investing in skills, industries and infrastructure
Northern Powerhouse Minister Jake Berry today (11 July) unveiled nearly £4 million of new investment into Grimsby as part of the next phase of its pioneering Town Deal – and hailed the town's unprecedented regeneration strategy.
As part of the second phase of the Town Deal, North East Lincolnshire Council will work with national charity OnSide to develop a brand-new Youth Zone in Grimsby town centre. OnSide currently successfully operates a national network of 12 Youth Zones across the UK with a number of others in the development pipeline.
The additional investment confirmed today will support the development of the strategic Garth Lane site and brings the total public and private investment through the Town Deal to £88 million, including £21 million of new investment since the launch of the Town Deal in July 2018.
The Grimsby Town Deal puts skilled jobs and education at its heart, a key part of the Government's modern Industrial Strategy for the UK, driving growth, productivity and boosting earning power across the region.  The next stage of the Town Deal will also look at a programme to drive up educational attainment and enhance adult skills.
Northern Powerhouse Minister Jake Berry said:
"The investment we're making through the UK's first Town Deal will help drive forward regeneration, create new opportunities for residents, young and old, and ensure the future for Grimsby is a bright and prosperous one.
"This regeneration strategy builds on our work across the Northern Powerhouse and is an essential part of our modern Industrial Strategy, creating jobs and training opportunities, while supporting businesses across the North and the rest of the UK."
Cllr Philip Jackson, Leader of North East Lincolnshire Council said:
"These projects are the first physical elements of the Town Deal being progressed in the short-term. However, the Town Deal is acting as a catalyst to unlock a much wider regeneration programme for Grimsby Town Centre and the Port of Grimsby. It has the potential to realise new commercial, cultural, leisure and residential opportunities on the port and on under-used land around Alexandra Dock.
"Delivering the Town Deal has been a major part of our work, and it's the dedication of people and organisations involved that we've reached this point. I'm delighted to be working with colleagues from across these organisations to bring about major changes for North East Lincolnshire and help to deliver a brighter future for our residents and businesses."
Tom Shutes, of Clato Legacy Ltd, one of the private sector partners, said:
"My work with Grimsby is founded in the strong belief that there are three key elements to successful urban regeneration: creating a positive, energetic environment that will inspire young people to stay in the area and provide a sense that they can evolve and contribute to their home town; skills and training to help fulfil that aspiration; culture, sport and leisure to enrich healthy, positive communities. The next phase of our development plans will bring some of Grimsby's incredible heritage buildings back to life with exciting, new public uses – opening them back up to local people once more. I am delighted to be working with such a committed group of partners on this ambitious plan to deliver real benefit to the area and something which is worthy of the generosity of the people of Grimsby."
Additional Background
The ground-breaking Greater Grimsby Town Deal was launched on 5 July 2018 beginning a stronger relationship between central government and local partners.
Local Work across the UK to illustrate the modern Industrial Strategy in action can be viewed in an interactive map, developed by the Department of Business, Energy and Industrial Strategy.
Town Deal
The Town Deal signals the Government's commitment to working hand-in-hand with communities that have strong local partnerships, ambition and a commitment to regenerate their areas. The Town Deal was signed in July 2018, and North East Lincolnshire is the only local authority in England to have secured such status.
Youth Zone – further details
North East Lincolnshire Council will work with national charity OnSide and other partners to develop a brand new Youth Zone in Grimsby town centre. OnSide Youth Zones currently operates a national network of 12 Youth Zones across the UK, with a number of others in the development pipeline, including a third Youth Zone opening in London this summer.
Youth Zones provide "somewhere to go, something to do and someone to talk to" for 8-19 year olds (and up to 25 with a disability) and aim to be safe, supportive and affordable places where young people can spend their free time constructively.
They provide large-scale multi-activity facilities, typically including multi-use 3G pitches, indoor sports hall, climbing wall, gym, music, dance and performing arts facilities and café along with flexible spaces that can respond to young people's changing needs and preferences.
OnSide Youth Zones is working partnership with North East Lincolnshire Council and the local business community to secure the capital and revenue funding for Grimsby Youth Zone.
West Haven Maltings site
It is proposed that the Youth Zone project will be created through conversion of the listed West Haven Maltings buildings. This site, formerly on the site of the town's oldest dock has been vacant for some time. It is close to the town centre and to the adjoining East Marsh and West Marsh wards. The Council is finalising acquisition of West Haven Maltings from the current owners and will undertake further works to conserve and refurbish the property, supported by Town Deal funding before delivery of the Youth Zone project by OnSide.
The project will be funded through a mix of public and private investment. The proposals are subject to securing planning consent.
It's estimated that for every £1 invested in an OnSide Youth Zone by local authorities, a social return on investment of £6.66 is achieved. The benefits for young people include health and wellbeing improvements, improved school attendance and reductions in crime and anti-social behaviour by Youth Zone members.
OnSide Youth Zones: background notes
OnSide Youth Zones was set up in 2008 to improve young people's futures by building and supporting places for young people to go, with positive things to do, staffed by people who care, open seven days a week – Youth Zones.  They offer 20 activities each night ranging from football, climbing and curling to nail art, DJ-ing, drama and employability training and entry is just 50p.  Over 40,000 young people are already members across the OnSide Youth Zone Network at our ten open Youth Zones in:
Five more Youth Zones in East Manchester, Barking and Dagenham, Barnet, Croydon and Hammersmith and Fulham are set open in 2019 onwards and a number of other projects are at various stages of planning.
Each Youth Zone is an independent charity with its own private sector-led board.  This model of local ownership is a key factor in ensuring the financial sustainability of each Youth Zone. The Youth Zone provides a way for local communities to actively support their young people between the age of 8 and 19 (25 for those with a disability).
Visit www.onsideyouthzones.org/ for more details.
Tom Shutes, Entrepreneur and Developer 
Tom Shutes is a developer and investor in real estate, media and the arts. He is known for delivering complex architectural and regeneration projects, often involving heritage assets, with a 20+ year track record. He is also the co-founder of the Institute for the Future of Work (IFOW) which just launched a future of healthcare programme together with Matt Hancock MP (Secretary of State for Health & Social Care) and Tom Watson MP (Deputy Leader Labour Party). He is co-founder of the Faith & Artificial Intelligence Conference and is founding director of The Museum of Everything & the Gallery of Everything.
Additional quotes
Cllr John Fenty, Cabinet member for regeneration: "These two transformational projects will improve life outcomes for young people across the borough and support the regeneration of Grimsby Town Centre. The future for Grimsby looks truly exciting and alongside other projects in our borough – the South Humber project to deliver employment land in some of our sites along the A180 and the Cleethorpes regeneration projects – we are really building pace."
Professor Toby Wilkinson, Deputy Vice Chancellor at the University of Lincoln, said: "As a civic university committed to working with our communities, the University of Lincoln is excited to be part of the discussions around the development of enterprise and education opportunities for Grimsby and North East Lincolnshire. We have seen first-hand in Lincoln the positive impact of higher education, research and knowledge exchange on the local economy, and we hope to be able to play a part in the redevelopment and regeneration of Grimsby."
Gill Alton OBE, Chief Executive of the Grimsby Institute of Further and Higher Education said: "We are delighted to be part of this unique partnership which support's the long-term regeneration of the town, working with our partners. The Grimsby Institute has been at the forefront of skills development within construction regionally for many years and has extensive experience of working with partners to ensure the area has access to leading training in the sector. We look forward to bringing our knowledge and expertise to the partnership which will also benefit from access to the facilities at the college"
Jamie Carson, Project Director North at OnSide Youth Zones said: "We are delighted to be working with North East Lincolnshire Council to build an OnSide Youth Zone in Grimsby town centre. The Youth Zone will give local young people a supportive and exciting place to help them live happier, healthier and more aspirational lives. Working together with North East Lincolnshire Council, existing local community groups in the town and the private sector I am confident that this partnership will go on to deliver fantastic opportunities for our young people for years to come."
Tom Shutes, Director of Clato Legacy, said: "My work with Grimsby is founded in the strong belief that there are three key elements to successful urban regeneration: young people – creating a positive, energetic environment that will make the youth not only stay in the area, but give them a sense that they can evolve here and contribute to their area's ongoing development; skills and training; culture and leisure.
"The next phase of our development plans will bring Grimsby's heritage buildings back to life with exciting, new public uses to engage locals and visitors, the young and old; and crucially skills and training – let's make Grimsby a centre of excellence where there are real opportunities for the future."
Simon Bird, Regional Director for ABP Humber said: "Having formed an excellent working partnership with NELC, we have worked closely on the Grimsby Town Deal, which we are very much in support of. As well as having sold the Garth Lane site to NELC, in order to unlock regeneration prospects for the Town Deal, we're also working alongside a number of additional partners to implement our own regeneration plan in the Kasbah." He continued: "This phased restoration of buildings, each being occupied by new tenants, will bring new jobs to the community and in time, it is our hope that this project will be an exemplar of heritage-led regeneration at its best."