Healthy Places Award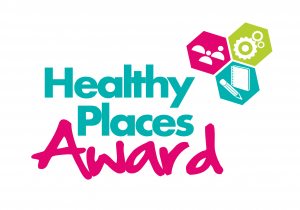 Contents
Do you want a reputation as an employer of choice? Do you want to show your people they really matter?
Happy, healthy people are at the heart of any great organisation. A culture that promotes health and wellbeing will reap the benefits of: improved attendance, productivity and attainment; greater happiness, morale and staff retention; and an enhanced experience for your service users and customers.
We recognise that every place is unique in its strengths and challenges. Available as an add-on to the Healthy Places Membership, the Healthy Places Award will facilitate your organisation to identify and achieve your unique goals towards creating a healthier place, looking at health and wellbeing in its broadest sense. Achieving an Award gives you recognition for your investment in and commitment to health and wellbeing.
Whether you are an educational establishment, workplace or community venue this award can work for you. Through campaigns, promotions and tailored action plans, there is much we can achieve together.
Impact of the award
You can read about the impact that our Healthy Places Award had for Young's Seafood on the Humber business website.
How you know it will make a difference
Register for the award
To register complete our Healthy Places Award registration form .
Further information
If you want any more information you can call us on 01472 325500 or email at healthyplaces@nelincs.gov.uk.