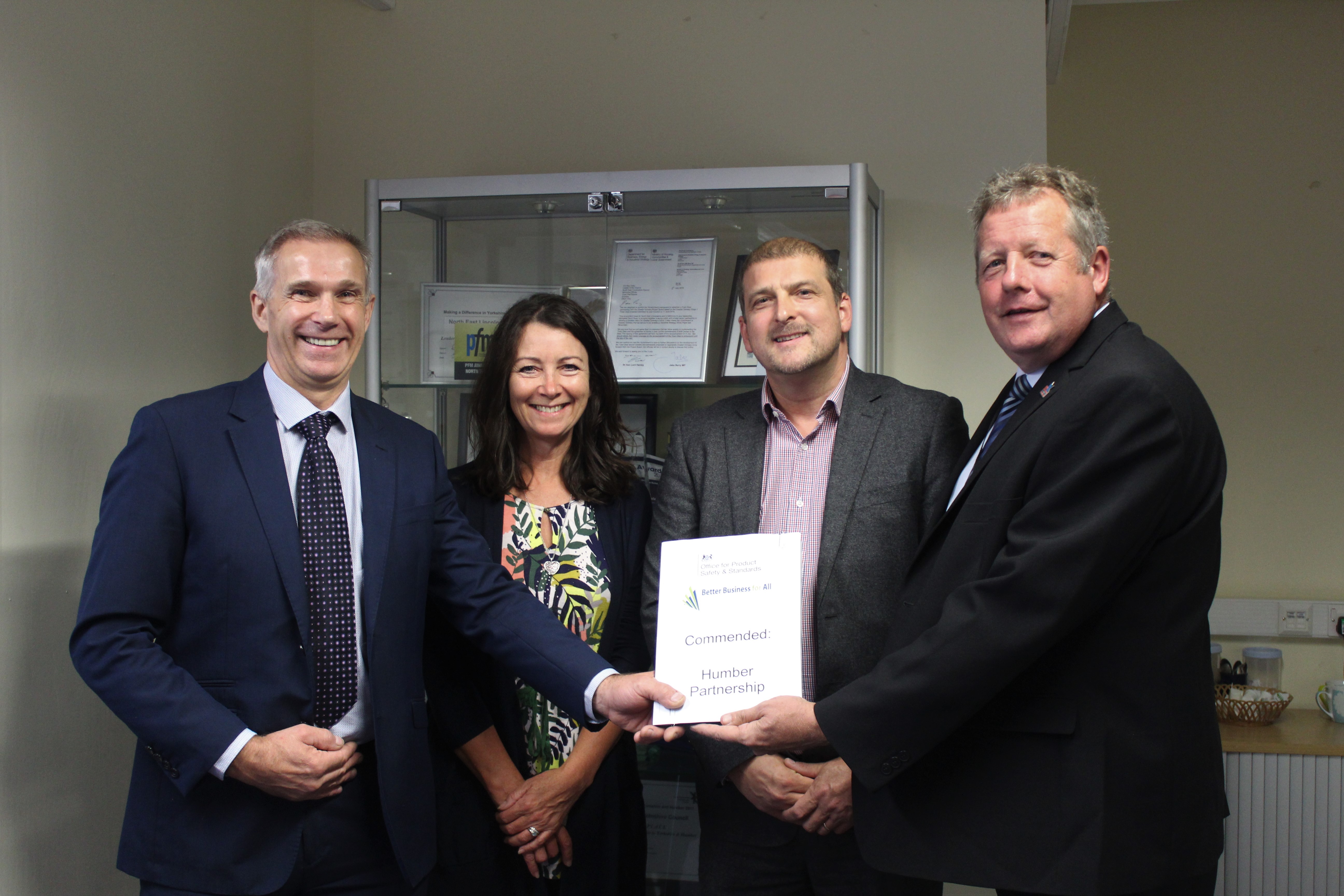 The Humber's Better Business for All (BBfA) Partnership group has been presented the 'highly commended' award in the BBfA category at the Regulatory Excellence Awards at a showcase in London.
The Regulatory Excellence Awards are hosted by the Department for Business, Energy and Industrial Strategy to celebrate those pioneering best practice in regulatory work.
Out of 37 entries, winners were announced before an audience of regulatory and private business sector professionals in July.
The Humber's BBfA group was established early 2018. In that short space of time, huge strides have been made in progressing its work programme to improve the way local regulators and business support agencies work together to support economic growth in the Humber region.
The group is made up of Humber Local Enterprise Partnership, North East Lincolnshire Council, North Lincolnshire Council, Hull City Council, East Riding of Yorkshire, Hull Humber Chamber of Commerce and Humberside Fire and Rescue.
Representatives from North East Lincolnshire Council's economic development, Trading Standards, environmental health, port health, environmental enforcement, pollution control and licensing teams have been involved with the group.
Councillor John Fenty, portfolio holder for regeneration, said:
"This is very much a regional win for the Humber and is a fantastic recognition for the work of all those involved.
"We are extremely honoured to be acknowledged for the work both we and the regional group has done so far. It shows how our teams work together to help businesses in North East Lincolnshire."
Councillor Ron Shepherd, portfolio holder for safer and stronger communities, added:
"The Better Business for All (BBfA) is designed to ensure regulators, businesses and business groups work together to support local economies – something we all connect with.
"Our strategy stays driven by the businesses themselves, through feedback and the excellent joint work within the Humber Partnership.
"From the outset, the Humber BBfA partnership has put people, collaboration and building understanding at the heart of its ambition to support business growth."