Oh we do like to be beside the (award-winning) seaside
7:31 am, Wednesday, 15th May 2019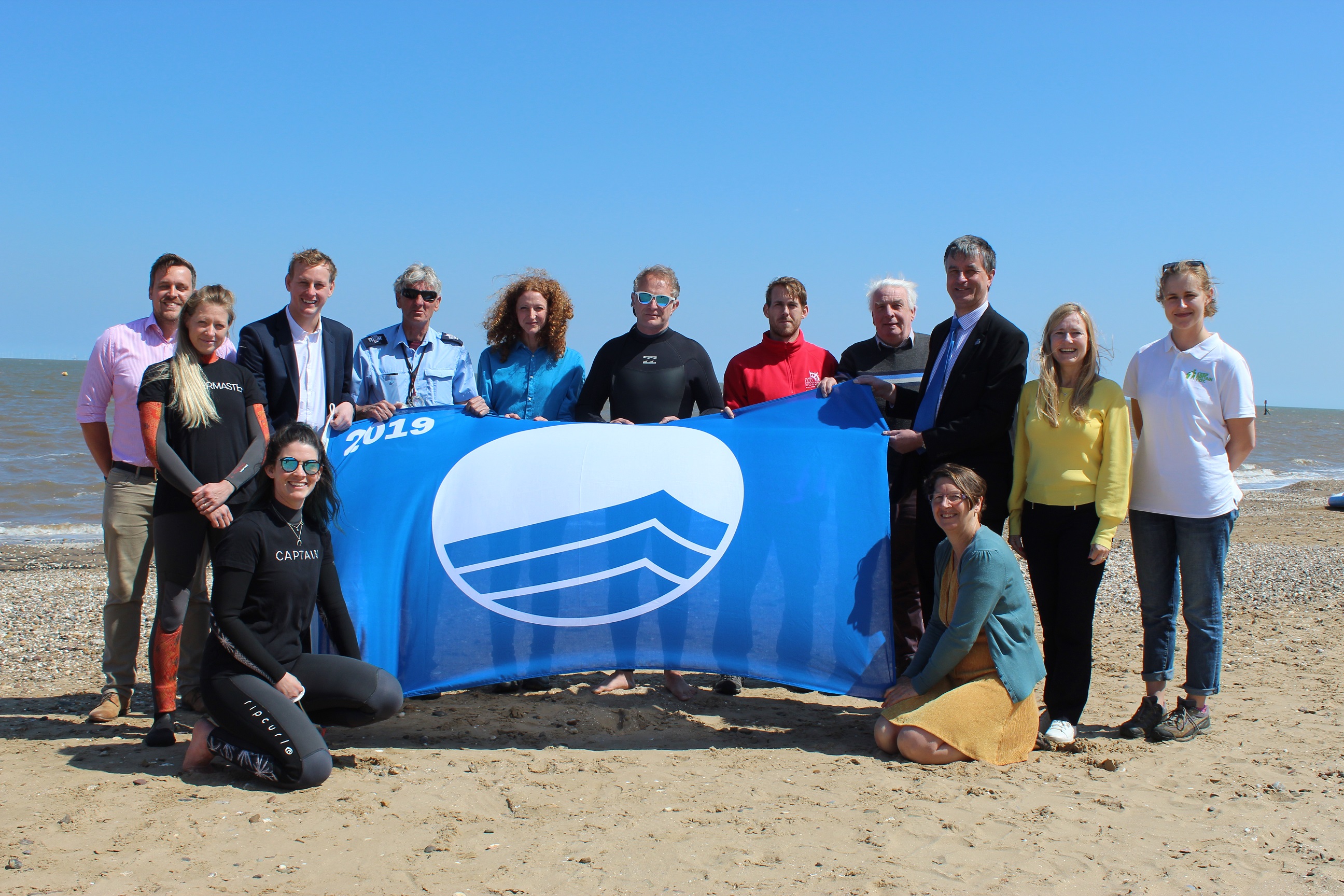 The Blue Flag is flying high once again in Cleethorpes as the resort's Central beach, from Wonderland through to the leisure centre, has secured the prestigious international award for water quality.
Cleethorpes Central beach joins the country's very best beaches, from popular holiday spots to quiet, more hidden-away spots. What unites them all is knowing that they are clean, safe and meet the highest environmental standards, as well as the tough international bathing water quality standards.
In addition to securing the 2019 Blue Flag status, Cleethorpes has also achieved two Seaside Awards for beaches beyond the leisure centre and at Humberston Fitties for their fantastic facilities and cleanliness.
This year environmental charity Keep Britain Tidy is presenting 208 awards to England's very best beaches, including 71 international Blue Flags and 137 Seaside Awards, with 52 beaches achieving both awards.
Along with our year-round projects to protect beaches and waterways, and working with the community to keep the beach clean, today's announcement is part of our ongoing commitment to make sure Cleethorpes stays as one of the best beaches in the UK for everyone to enjoy.
Cllr Callum Procter, new Cabinet member (elect) for tourism said: "I am delighted with the news that Cleethorpes has once again been given this prestigious award. It reflects the hard work and dedication of staff to maintain consistently high standards.
"The award act as a guarantee to tourists that the beach they are visiting meets international water quality tests and that the facilities are well managed safe and welcoming."
He added: "I would like to extend a special thank you to everyone who has worked hard to help us achieve these awards. So many community groups and council departments contribute, along with the many facilities in and around the resort that make it such a pleasant place to visit.
"One of our aims as council is to increase visitor numbers to Cleethorpes and this prestigious award can only strengthen this objective."
Keep Britain Tidy's Chief Executive Allison Ogden-Newton said:  "The success of the 156 beaches in reaching the very high standards demanded by both awards is testament to all those who have worked so hard to protect and improve our beaches – from beach managers and volunteers to local people and businesses.
"When you enjoy a trip to a beach flying an international Blue Flag or Seaside Award, you know you are on one of the safest, cleanest and very best in the country."
Dr Lucinda Gilfoyle, Head of Environmental Quality at Anglian Water said: "We are absolutely delighted that Cleethorpes has once again received the prestigious blue flag for its beaches and bathing water quality standards. Anglian Water is heavily invested in helping to keep the East Anglian coast in great condition.
"Everyone has their part to play when it comes to protecting our bathing waters. Whether it is ensuring we don't litter and we pick up after our dogs on the beach, and we don't flush items such as wet wipes and fat into our sewers and drains that can cause blockages and pollution – it is all important when it comes to protecting bathing water quality. At Anglian Water, we continue to invest in our coastal infrastructure, state-of-the-art bathing water monitoring systems and our successful coastal initiatives to make sure we are playing our part. Our dedicated Coastal Water Protection Team work closely with local communities aiming to tackle pollution from third party sources such as plastics, slurry from farms, trade waste, private sewage systems and misconnected drains. Only together can we protect our beaches and make sure the blue flags stay flying"
Yvonne Daly, Environment Manager at the Environment Agency, said: "Cleethorpes is a beloved beach that last year got top marks for having clean water, so we're pleased it has been awarded a Blue Flag.
"All bathing waters across the county have been rated as having 'excellent' water quality – brilliant news for Lincolnshire locals and holiday-makers alike. We continue to work hard with our partners and local communities to make sure the water is clean and safe for everyone to enjoy."
You can check the rating of any beach near you by visiting the Environment Agency's bathing water quality data explorer.
The awards are administered in England by Keep Britain Tidy and is managed internationally by the Foundation for Environmental Education (FEE.)