Lincolnshire Wolds AONB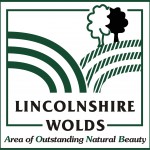 The Lincolnshire Wolds is a nationally important and cherished landscape. Most of it was designated an Area of Outstanding Natural Beauty (AONB) in 1973.  Covering an area of 558 square kilometres or 216 square miles, the AONB contains the highest ground in eastern England between Yorkshire and Kent, rising to over 150m along its western edge.  Rolling chalk hills and areas of sandstone and clay underlie this attractive landscape. The Lincolnshire Wolds has been inhabited since prehistoric times and the appearance of the countryside today has been greatly influenced by past and present agricultural practices.
The Lincolnshire Wolds Countryside Service is a jointly funded partnership between Natural England, East Lindsey District Council, West Lindsey District Council, North East Lincolnshire Council and Lincolnshire County Council.
They aim to protect and enhance the landscape through partnership projects with local landowners, farmers, parish councils, businesses and residents of the Wolds.
The Lincolnshire Wolds Countryside Service work with communities on numerous projects, including landscape and conservation improvements, local business ventures and information provision. Basically, any community within the AONB can contact them for assistance, guidance and help in funding opportunities for projects that can improve their environment and they will help and assist wherever possible. Details are available for the Lincolnshire Wolds Grant Scheme.
Development Managements Services (landscape), New Oxford House, 2 George Street, Grimsby, North East Lincolnshire, DN31 1HB
Email: planning@nelincs.gov.uk
Telephone: 01472 324213