Public Notice of Planning Applications – 3 January 2019
9:00 am, Thursday, 3rd January 2019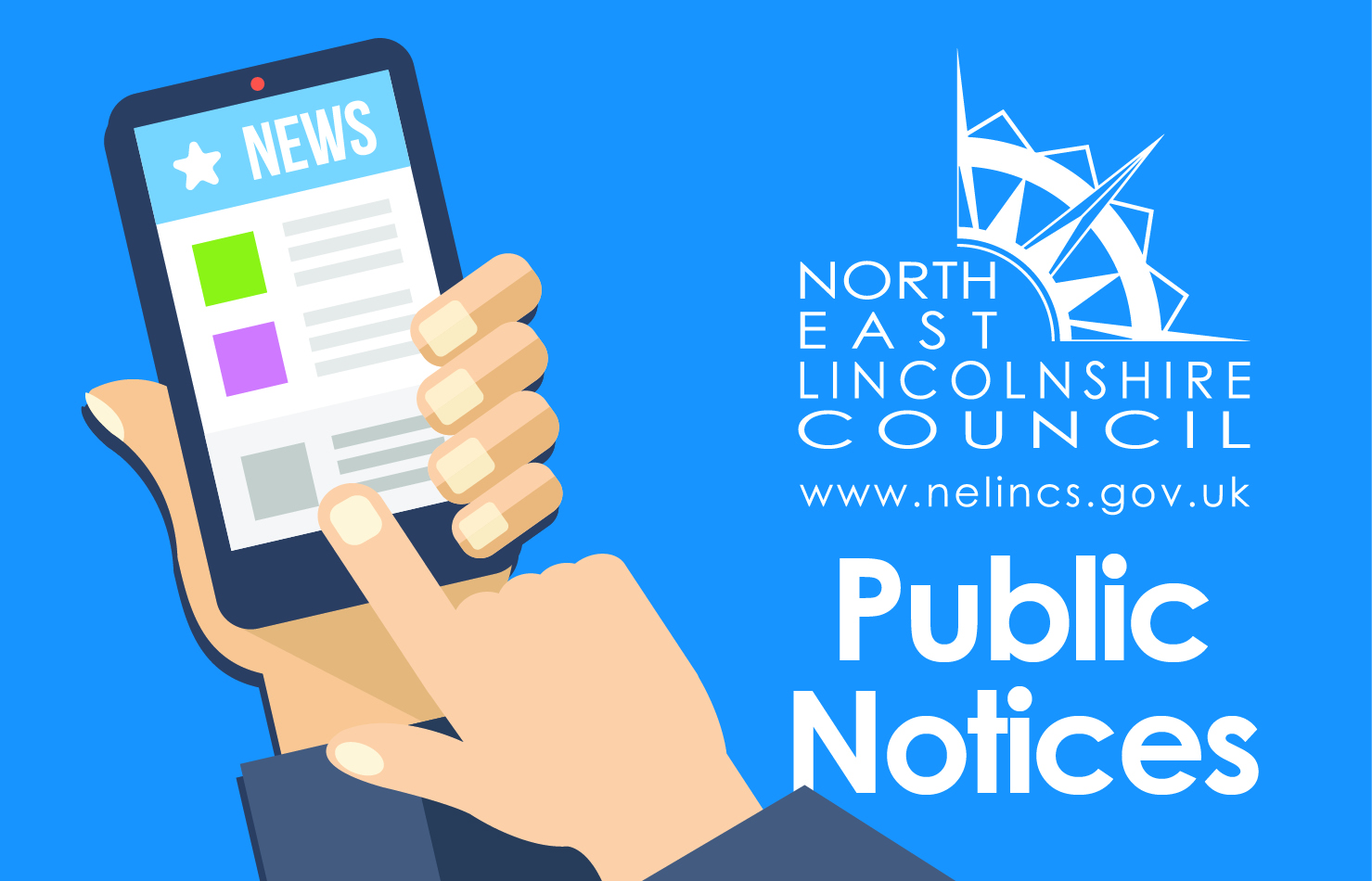 NORTH EAST LINCOLNSHIRE COUNCIL
Publicity of Planning & Related Applications
The applications set out in the Schedule below are required to be given wider publicity and public comment is invited.
Copies of the applications can be viewed on-line at http://www.nelincs.gov.uk/
The reason for publicising each application is indicated after the application number as follows:-
(01) Major Development; (02) Development affecting a Listed Building; (03) Development affecting the setting of a Listed Building; (18) Development affecting the Cleethorpes Central Seafront Conservation Area; (22) Development affecting tree(s) subject to tree preservation orders; (24) Development proposals accompanied by an Environmental Statement
S C H E D U L E
DM/1065/18/ADV Display 2 illuminated, single sided advertising posters on a bus shelter, Adj Library, Alexandra Road, Cleethorpes-(18)
DM/1069/18/ADV Display 2 illuminated, single sided advertising posters on a bus shelter, High Street, Cleethorpes-(18)
DM/1090/18/FUL Demolish existing public house and erect three storey apartment building of 8 self-contained residential flats with associated bins storage, cycle storage and parking, The Albion Hotel, 178-180 Cleethorpe Road, Grimsby-(03)
DM/1089/18/FUL Variation application of condition 11 (Approved Plans) as granted on DM/0182/17/FUL (Erection of a detached dwelling, new fence and gates and alterations to existing access) to amend rooflight type, land at School Lane, East Ravendale-(03)
DM/1084/18/FUL Demolish existing dwelling and outbuildings and erect dwelling with detached garage and associated works, Llanfoist, Waltham Road, Brigsley-(22)
DM/1070/18/FUL Construction of an energy from waste facility of up to 49.9MWe gross capacity including emissions stack(s), associated infrastructure including parking areas, hard and soft landscaping, the creation of a new access to South Marsh Road, weighbridge facility, and drainage infrastructure, on land at South Humber Bank Power Station, land rear of Power Station, Hobson Way, Stallingborough-(01)(03)(24)
DM/1030/18/REM Reserved matters application for the erection of five dwellings to include access, layout, scale, appearance and landscaping following DM/0604/17/OUT (Outline application for residential development), land rear of 20-24 South Marsh Road, Stallingborough-(22)
DM/1098/18/FUL Erect two detached dwellings to include roof lights, detached garages, creation of new access and associated works, 2 Post Office Lane, Ashby Cum Fenby-(22)
DM/1101/18/OUT Outline erection of 5 detached dwellings with means of access to be considered, land rear of 30 Humberston Avenue, Humberston-(22)
DM/1108/18/FUL Variation application of condition 8 (Approved Plans) as granted on DM/0524/17/FUL (Change of use from fish and chip restaurant/take-away (A3/A5) to restaurant/bar (A3/A4), various internal and external alterations, replacement shop front and dormer at front of third floor) to make alterations to shop front and amend arrangement of rear WC doors, 41 Alexandra Road, Cleethorpes-(02)(03)
DM/1109/18/PNSOL Prior notification for the installation of solar photovoltaic panels to existing store roof, Tesco Extra, Hewitts Avenue, New Waltham, Cleethorpes-(22)
Comments should be made:
On line at http://www.nelincs.gov.uk/ or by post to:
Development Management Services, New Oxford House, 2 George Street, Grimsby, DN31 1HB by 27th January 2019
Please Note: Signatures, telephone numbers and e-mail addresses attached to representations will not be shown on the Council's web site but your name and address will be displayed.  Anonymous representations will not be taken into account ie if no name and address are supplied.
Angela Blake – Director of Economy and Growth – Place
3rd January 2019