Public Notice of Planning Applications – 6 September 2018
9:00 am, Thursday, 6th September 2018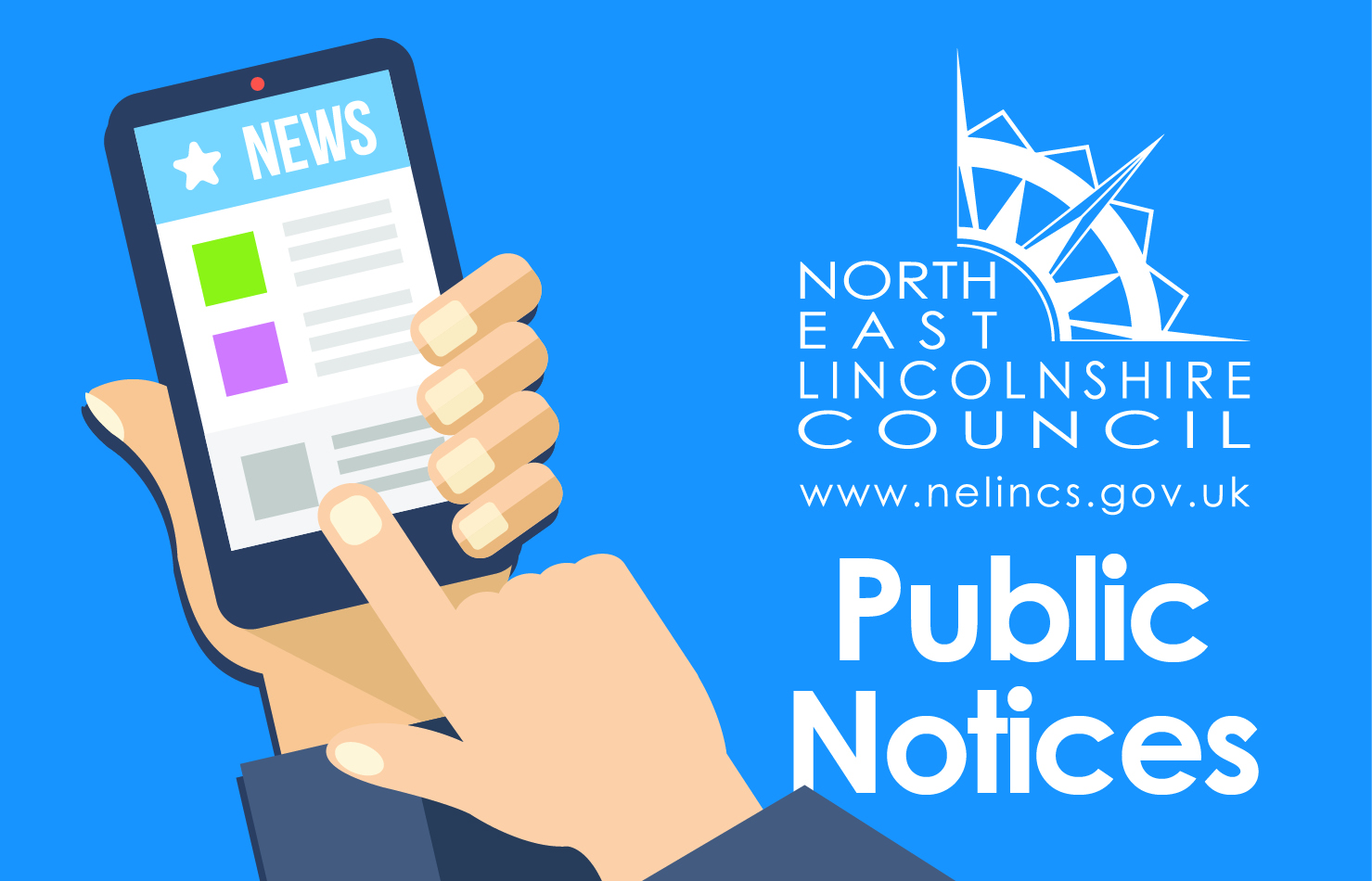 NORTH EAST LINCOLNSHIRE COUNCIL
Publicity of Planning & Related Applications
The applications set out in the Schedule below are required to be given wider publicity and public comment is invited.
Copies of the applications can be viewed on-line at http://www.nelincs.gov.uk/
The reason for publicising each application is indicated after the application number as follows:-
(02) Development affecting a Listed Building; (03) Development affecting the setting of a Listed Building; (04) The proposed development does not accord with the provisions of the Development Plan in force in the area in which the land to which the application relates is situated; (05) The proposed development would affect a public right of way; (07) Development affecting the Old Clee Conservation Area; (09) Development affecting the Wellow Conservation Area; (10) Development affecting the Central Area Conservation Area; (16) Development affecting the Cottagers Plot Conservation Area
S C H E D U L E
DM/0573/18/FUL The demolition of existing derelict pig sheds to be replaced with a single storey dwelling with associated parking and landscaping, land off Old Farm Road, Hatcliffe-(04)
DM/0700/18/FULA Demolish existing garage, side and rear extensions and erect single storey side and rear extensions with 3no rooflights, 15 Brighowgate, Grimsby-(03)(09)
DM/0723/18/FUL Retrospective application to replace roof, guttering for cast iron, windows and replace rear windows with bi-fold doors, Linden Lea, 11 Church Lane, Old Clee, Grimsby-(02)(03)(07)
DM/0473/18/LBC Listed Building Consent for various replacement and repair works to include roof replacement, repointing of chimneys, gable ends, replacement guttering for cast iron, replacement windows, replace rear windows with bi-fold doors and repaint whole property, Linden Lea, 11 Church Lane, Old Clee, Grimsby-(02)(03)(07)
DM/0706/18/FUL Convert three existing ground floor retail units into four mixed use units with 3 residential flats at first floor level, erect an extension at ground and first floor levels to the rear, extension to roof to include roof lights, installation of flues and new aluminium shop fronts, 14-16 Victoria Street, Grimsby-(03)(10)
DM/0716/18/FUL Erect fence to partial side and rear boundary, 60 Cheapside, Waltham-(05)
DM/0669/18/FUL Retrospective application for installation of generator and erection of fenced enclosure, Parkway Offices, 10 Acorn Business Park, Moss Road, Grimsby-(09)
DM/0499/18/FUL Erect temporary mobile stable block for a 2 year limited period,  Chapel House, 1 Cottagers Plot, Laceby-(16)
Comments should be made:
On line at http://www.nelincs.gov.uk/ or by post to:
Development Management Services, New Oxford House, 2 George Street, Grimsby, DN31 1HB by 30th September 2018
Please Note: Signatures, telephone numbers and e-mail addresses attached to representations will not be shown on the Council's web site but your name and address will be displayed.  Anonymous representations will not be taken into account ie if no name and address are supplied.
Angela Blake – Director of Economy and Growth – Place
6th September 2018