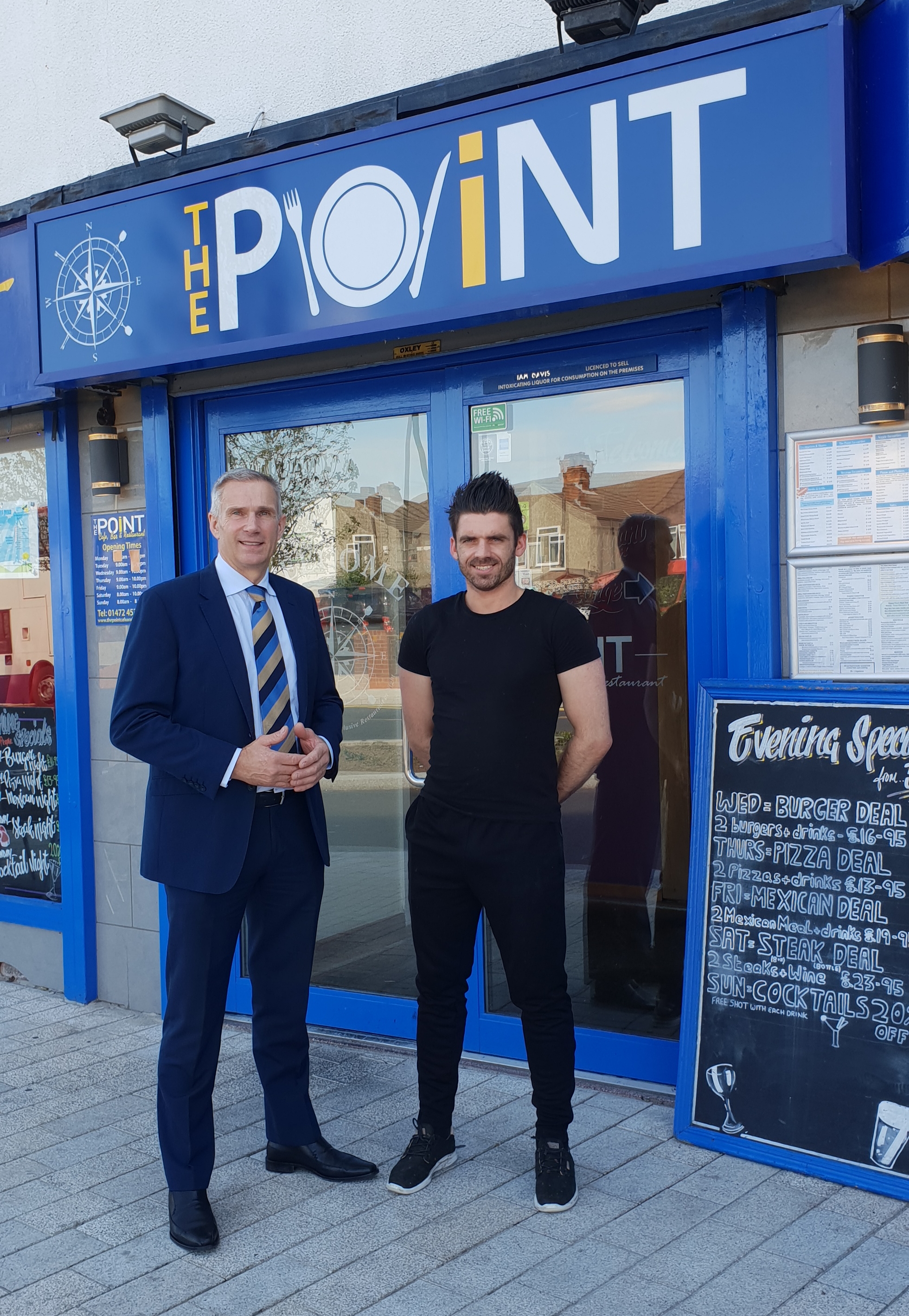 SUPPORT the resort and let's make it a success – that's the call from the owner of a popular Cleethorpes café, bar and restaurant as major works outside his venue are now complete.
The paving, highway and street improvements that have taken place on the High Street have been carried out, thanks to a grant from the Coastal Communities Fund. The overall Coastal Communities Fund, worth £3.8m, was given in 2017 and is one of a number of different grants awarded for various improvement and heritage works across the resort.
Since January, contractors from regional firm PBS Contractors have been putting in granite kerbs, with new stone paving, re-aligning the roadway to make it easier for pedestrians and slow traffic down, landscaping, and installing bespoken lighting and waste bins. The work finished on schedule, on July 27.
Liam Davis has run The Point café, bar and restaurant on the corner of High Street and St Peter's Avenue for two years and, while the works did cause some disruption, he now welcomes the improvements and believes it's time for everyone to support the new look High Street and spread a positive message about Cleethorpes.
"It looks so much better and a big plus for me has been the way in which the changes to the road layout seems to have slowed drivers down," said Liam.
"The whole visual aspect is improved. Yes, there was some negativity due to the disruption when the work started but it's time to move on and look at what we have now. Cleethorpes is a good resort with some great businesses," he added.
North East Lincolnshire Council's Deputy Leader and Cabinet member for regeneration Cllr John Fenty, visited the High Street to look at the improvements.
He was revisiting Cleethorpes just weeks after the major announcement of cultural and art installations along the North Promenade – including a showpiece 72ft white palm. This work is also supported by the Coastal Communities Fund. As recently reported similar works, which include vital road safety improvements are due to start soon on Alexendra Road, just around the corner from the High Street,
In examining the recent High Street works, Cllr Fenty also responded to some recent criticism about the colouring of the new paving showing up marks and that it was already stained with gum.
Cllr Fenty said: "The simple fact is the area is greatly improved. If we were to have put in darker paving, for example, the chewing gum would have stood out even more. The issue is not the stains, it really rests with those people who think it is acceptable to spit out their gum onto new pavements, as well as spilling drinks and food.
"The continued transformation of Cleethorpes into what is now one of the premier resorts along the east coast is testament to all of those involved. Aesthetic improvements, such as the work carried out to this paving, make a real difference to the image of the resort and make for pleasant surroundings for those both visiting and working," he said.
This Coastal Communities work is running alongside a programme of other grant-funded activity, including monies to conserve historic buildings along Alexandra Road and Sea View Street, the public realm on Alexandra Road and a heritage activities programme – work all made possible thanks to the National Lottery Heritage Fund.
As recently reported similar works, which include vital road safety improvements, are due to start soon on Alexandra Road just around the corner from the High Street.
"In order to progress as a council there is no doubt that we must continue to develop Cleethorpes, which in turn will see a larger number of visitors and the growth of local businesses. This visitor economy is vital and the whole of North East Lincolnshire will benefit," added Cllr Fenty.
ENDS