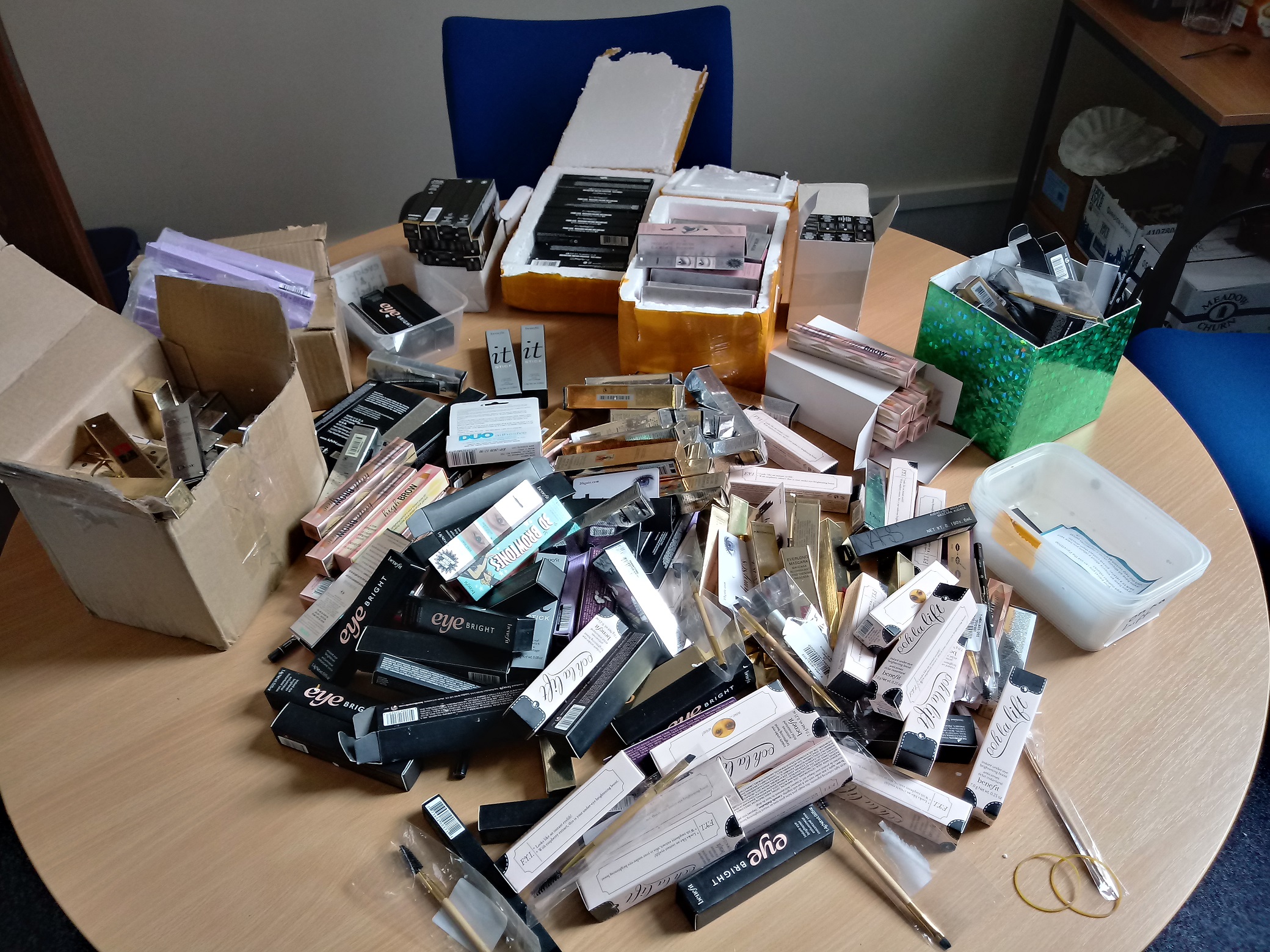 Trading Standards officers at North East Lincolnshire Council have seized a batch of suspected fake makeup at a private address in Humberston.
More than 275 products were seized including mascara, eyebrow and lip pencils, lipsticks and concealer.
Trading standards officers estimate the cosmetics have a street value of about £2,258 and would cost more than £6,000 if they were genuine goods.
The cosmetics have been sent for testing and are thought to be cheap copies of products by brands including Benefit, Dior, YSL, NARS, MAC, Kylie, Mariah Carey, Anastasia, Urban Decay, Chanel and Sun Mama.
Neil Clark, community protection and compliance team manager at North East Lincolnshire Council, said:
"These goods had been advertised and sold on the online auction site EBay at prices considerably lower than the recommended retail price.

"Our officers executed a search warrant at an address in Humberston with support from Humberside Police as part of an intelligence-led project with brand protection officers working on behalf of Benefit and Christian Dior.

"We suspect the products are fake and they will be tested, not only to prove they are counterfeit, but also to assess their chemical make up as similar goods previously seized have been found to contain high levels of lead and other toxic chemicals and elements.

"A 26-year-old woman will be questioned regarding the matter at a later date."
Cllr David Bolton, portfolio holder for Safer Communities and Public Protection, added:
"If you care about what you put on your face, steer clear of cheap, imitation cosmetics.

"While some knock-offs look just like the real deal, they may contain lead, paint-stripper and other harmful substances.

"Toxic ingredients can leave users with chemical burns, rashes and at risk of other health problems.

"Nationally, we're seeing more and more fake cosmetics for sale online, they're unregulated and simply not worth the risk.

"When you buy fake goods, you're ultimately handing money to criminals, stealing from the original rights holders, and potentially funding other illegal activities."
Insp Dave Stephenson from Humberside Police added:
"We're always happy to support our partners in executing these warrants, working together to help keep our communities safe."
If you suspect the authenticity of branded items being sold, you can report it to Trading Standards through Citizens Advice Consumer Service on 08454 04 05 06. Or visit https://www.brand-i.org to check the authenticity of the retailer and report unauthorised sellers.