Team behind Wheels to Work scheme moves to new operating base
11:13 am, Tuesday, 25th June 2019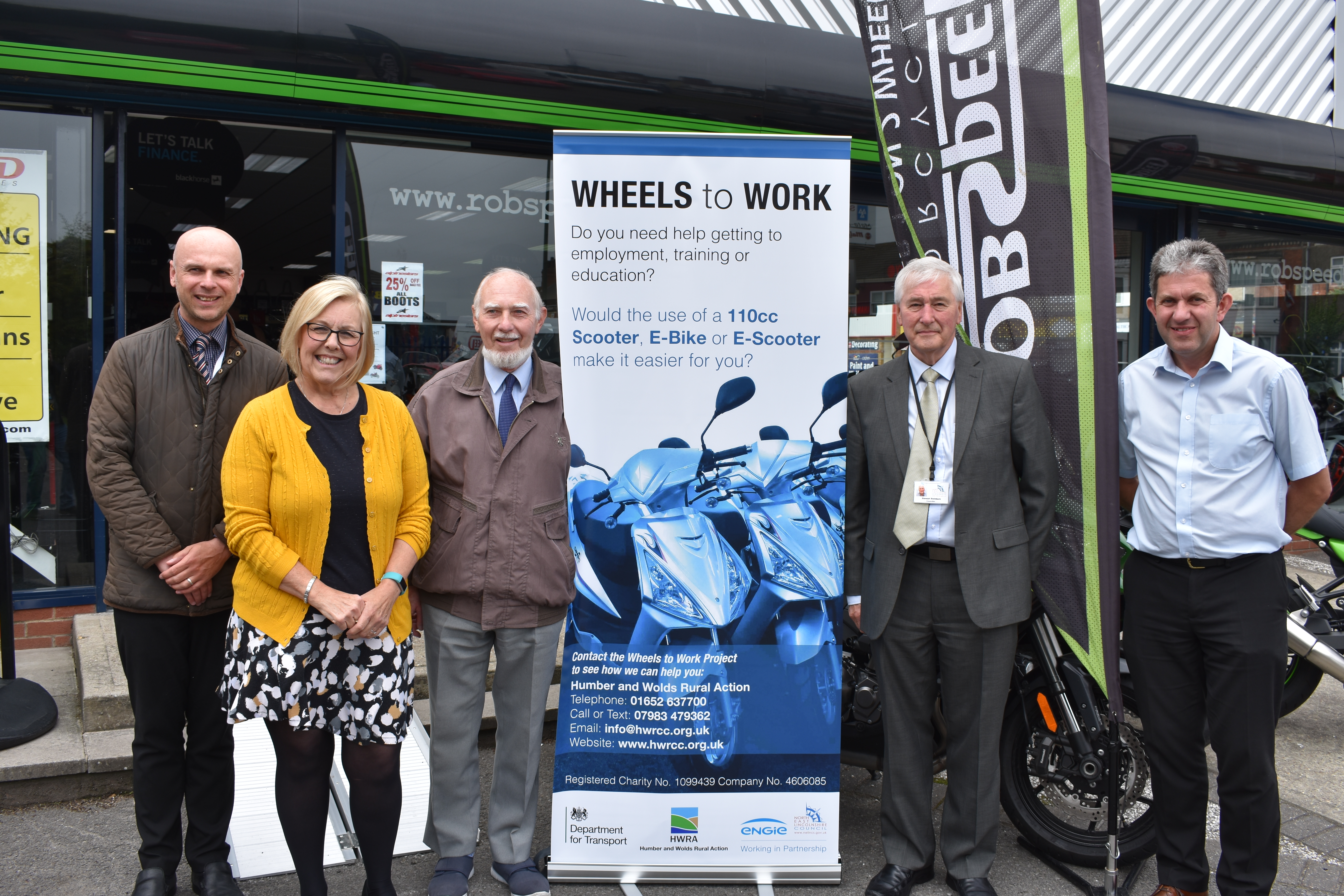 The Humber and Wolds Rural Action (HWRA), delivery partner for Wheels to Work, have relocated to their new operating base at Robspeed on Cleethorpe Road.
The move to Robspeed allows HWRA to work more closely with the team at Robspeed who provide all the maintenance and safety checks on the scheme's scooters.
What is the Wheels to Work scheme?
The scheme aims to help more people get access to work and education, offering eligible applicants a 49cc or 110cc scooter or e-bike, loaned for up to 26 weeks for a monthly charge of £110.00 (£40.00 for an e-bike).
The successful scheme is offered by North East Lincolnshire Council, working in partnership with ENGIE and HWRA.
Insurance, tax and servicing are covered by the scheme, including safety equipment if required for an additional £45. All eligible applicants are required to successfully complete a basic training course.
Am I eligible?
To be eligible to hire a scooter, the following conditions must be met:
The daily journeys must be a reasonable distance for a scooter, for example, between 5 and 20 miles.
No other forms of public or private transport are available.
Transport must be required to access employment, education and/or training.
Applicants must live in North East Lincolnshire and hold a valid driving licence and where applicable a current CBT certificate.
Councillor Stewart Swinburn, portfolio holder for transport, said: "This scheme has helped get a lot of people into work, providing them with a means to access education, training and employment.
"Travelling to and from work can pose a difficult and expensive obstacle, leaving a lot of people unable to access employment and training opportunities outside of the reach of public transport and Wheels to Work offers those people a solution.
"I'm really pleased that the team is now based in a central and easily accessible location. Lots more local people can now benefit from the scheme."
Carole Johnson, Wheels to Work project coordinator, said: "We are thrilled to be relocating to Robspeed. This will streamline the operation, giving us a base which is more accessible to the people the service is aimed at. We are grateful to Rob Speed for providing accommodation and an enhanced service package."
For more information contact Carole Johnson on (01652) 637700, call or text 07983479362 or email: info@hwrcc.org.uk.