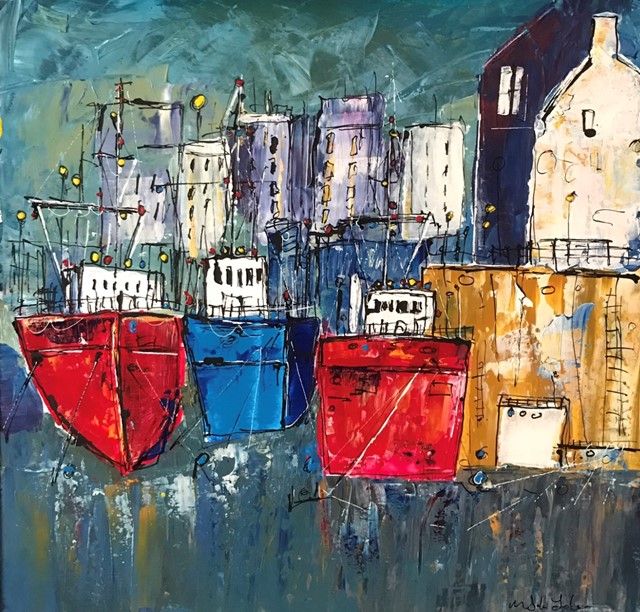 Martin John Fowler is an artist working in Yorkshire and Lincolnshire. Whilst travelling from the Scottish isles to the hidden coves of Cornwall, he recorded the wild coastal areas in his artwork.
Martin was born and brought up in the Mining towns of South Yorkshire. He studied drawing and painting at Doncaster College of Art, then moved on to study painting and printmaking at Sheffield College of Art, completing his BA (Hons) in Fine Art.
Martin has exhibited work nationally and internationally in solo, mixed exhibitions and competitions.  His paintings, drawings and prints are held in many private collections.
Speaking about his work, Martin says: "I work mainly outdoors on location reworking in my studio from sketches and notes made. I am interested in the sense and mood of a place and not making a literal copy. I aim for a critical balance of abstraction and reality. My outcomes are always vigorous in treatment, showing my love for the manipulation of the medium to create passages of energy and textured balance alongside areas of quiet."
"Work on my ongoing project has been intensified by the prevailing sense of change I see in coastal working ports, from childhood memories to the present day, recording and reflecting the constant change and adaptions of an entire way of life."
Louise Bowen, Collections Officer for the Centre said
"We are delighted to showcase Martin's work. He is incredibly talented and we know our visitors will really connect with the themes he is presenting in this exhibition."
The exhibition is free and opens on Tuesday 10 April until Sunday 8 July 2018.
Grimsby Fishing Heritage Centre is open Tuesday to Sunday from 10am to 4pm. For more information about the exhibition please contact the Centre on 01472 323345 or email fhc@nelincs.gov.uk.