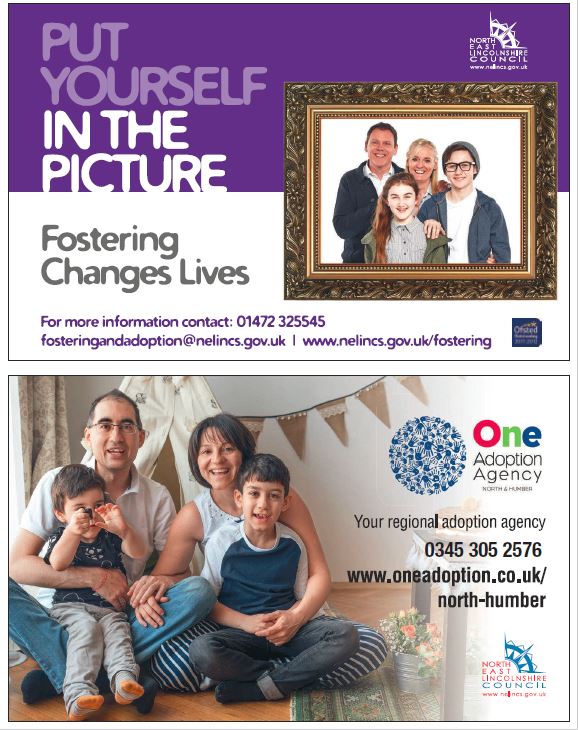 Children in your community urgently need your help.
Whether you are interested in fostering or adoption, North East Lincolnshire Council's friendly and experienced teams will support you through the process.
Foster caring is a challenging but rewarding career.
Foster carers are given the skills and support to take a child in a difficult circumstance and give them a better chance to thrive.
There are so many boys and girls wishing to become a part of a family like yours.
One long-term foster carer said:
"I saw the full impact of his time in foster care after he left as an adult…he says 'I wouldn't be here if it wasn't for you."
The fostering and adoption teams always welcome new enquiries.
North East Lincolnshire Council is part of the regional adoption agency One Adoption.
Because of this regional approach, families are placed with children in a timelier manner.
One of North East Lincolnshire Council's adopters said:
"Support from North East Lincolnshire Council's adoption team has been amazing, they are really accommodating, we've been to groups with other potential adopters and the adoption team have always been there throughout the process."
Councillor Kathryn Wheatley, Portfolio Holder for children, young people and education said:
"The need for adoptive parents and foster carers needs to be kept at the forefront of people's minds.
"Talk to your friends and family about adoption and fostering but also talk to our team at their regular events.
"There are a lot of misconceptions about fostering and adoption and because of this many people who we would love to hear from don't ever make contact.
"Please enquire today to see if fostering or adoption is right for you."
North East Lincolnshire Council holds fostering and adoption events on the first Tuesday of every month at Tesco's Community Room, Hewitts Avenue, Cleethorpes North Road, Cleethorpes Road, DN35 9QR.
Please make contact to find out about what our fostering team can do for you:
01472 325545- Open Monday to Thursday 9am-5pm, Friday 9am-4:30pm
fosteringandadoption@nelincs.gov.uk
Enquire about adoption with our regional adoption agency One Adoption North and Humber:
0345 305 2576
www.oneadoption.co.uk/north-humber/about-one-adoption-north-humber
Fostering and Adoption: Myths De-bunked
Relationship: You do not have to be married or have a partner. You can foster or adopt if you are single, in a civil partnership, married or in a stable long-term relationship.
Sexual orientation: We welcome adopters and foster carers of any sexual orientation.
Disability: You can apply to foster or adopt if you have a disability or health issue, so don't rule yourself out before having a conversation with our friendly team.
Owning your home: It does not matter if you own or rent the home you live in. You need to show us that you have enough room to care for a child, in a safe and secure environment.
Age: The minimum age is 21 but there is no maximum age for fostering or adopting.
Experience: You do not need any specialist formal qualifications, we welcome people from all walks of life to foster or adopt and will provide training and support to be the best foster carer or adoptive parent you can be. If you haven't had your own children, prior experience with children in a work or voluntary capacity is important to foster.
Criminal record: You can adopt if you have a criminal record. However, if you have criminal convictions for most violent offences or any offences against children we will not be able to take your application forward
Occupation: You can have another job at the same time as fostering – all we ask is that you are available to meet the needs of the children, for example, attending meetings or health appointments. Many employers are understanding and allow some flexibility if they know their staff are foster carers.
Income: Fostering income is usually non-taxable and will not affect any other income you may have.