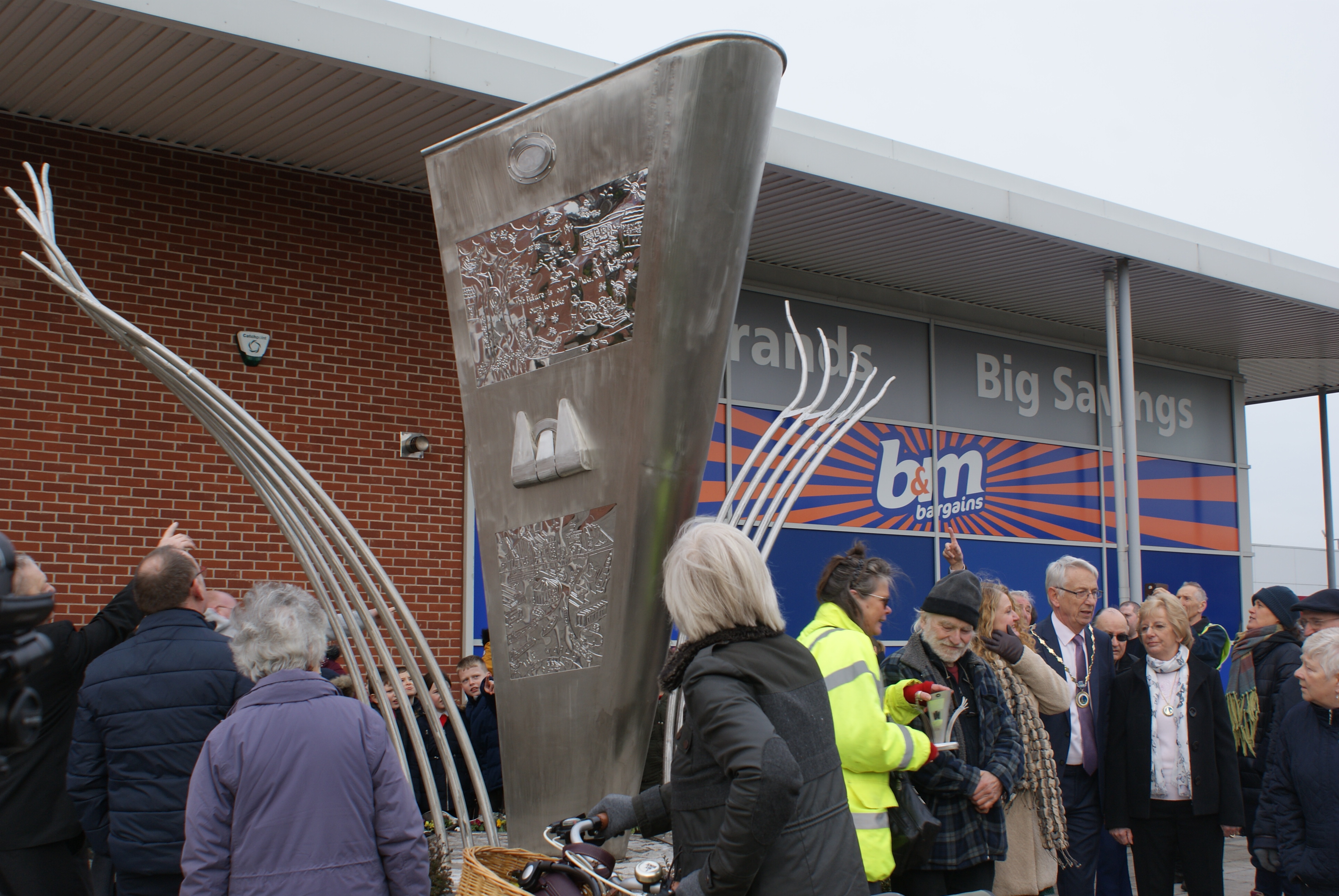 A new sculpture for the centre of Immingham has been unveiled.
The sculpture, called Immingham Forging Forward, was designed with the help of local people during community workshops.
Designed with Immingham in mind, the artwork is a 4 metre tall ship's bow which features panels representing Immingham life, and the town's past, present and future.
Artists, Pete Rogers and Alex Hallowes, were present for the launch and had a few words to say about the project.
"We've become immersed in Immingham for the past six months so we can make something which represents the town."
Members of the community turned out to see the grand unveiling by the artists and the Mayor of Immingham.
Children from Eastfield Primary School also came down on the day, and brought a lively atmosphere to proceedings.
Some of the children's designs and ideas were incorporated into the sculpture, and it was the first time they'd seen their ideas brought to life.
The Mayor was joined by Councillor Gaynor Rogers and ward councillors, David Bolton, David Watson and Stewart Swinburn for the launch event.
Cllr Rogers, portfolio holder for Culture, Heritage and Tourism said: "The fact the designs of local people and school children have been directly incorporated is wonderful.
"This is truly a collaborative project, and not just someone else's interpretation of what Immingham is.
"Only people who truly understand Immingham could come up with such a tremendous mix of designs and ideas."
The artwork was installed on Kennedy Way on Friday 1 February, with the final touches added in the lead up to the launch.
Funding for the project came from a scheme to provide public art as part of improvements to Kennedy Way.
A total of £50,000 was earmarked for the project, which was only to be spent on public art. This includes the cost of commissioning and maintaining the artwork.