Public toilets
Public toilet locations
Locations of the public conveniences can be found using the My Maps service on the Find My Nearest page. To view the public toilets and other conveniences select the 'Leisure' tab under the 'Show Map' Categories.
Public toilet opening times
Please note that due to resources of opening and closing the public conveniences – which are undertaken through our mobile cleaning team – each facility will be visited in turn (on a rotational basis) and will result in up to a 45 minute period where either the last facility will be opened later or be closed earlier than the hours stated below. This allows the cleaning operatives time to visit each facility.
All public conveniences are closed on Christmas Day.
The Asset Management team at ENGIE are responsible for the day to day management of our public conveniences. If you need further information please contact the Asset Management Service Desk using the details at the bottom of the page. Public conveniences in Immingham can be accessed at Immingham Town Council, Civic Offices.
Charging for public toilets
We have recently amended the entry fee to use our public toilets to a 20 pence charge which will allow access through a set of paddle gates. The paddle gates require users to insert coins on entry. The money collected will ensure that public toilets can remain open, with any surplus money used to improve the condition of the facilities.
The paddle gates, similar to the one shown in the image below, are visible to all male and female toilets with the exception of Peoples Park and Weelsby Woods. Some sites include disabled and baby changing facilities once you are through the paddle gates. A RADAR key will still be needed to access the disabled facilities. The separately accessed disabled facilities have been installed with a coin operated system that once used will allow the RADAR key to open the door.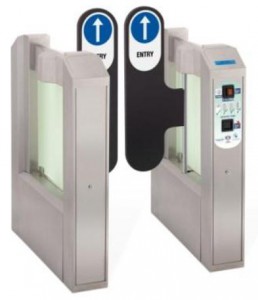 Details about baby changing, changing place facilities and RADAR keys can be viewed using the expandable menu below.
Changing Places facilities are designed for use by people with complex disabilities and their carers. Changing Places facilities can be found at the following locations:
Cleethorpes, Boating Lake Public Conveniences
Immingham Civic Offices
Changing places are supported by Mencap and are promoted through the Changing Places Consortium. They are designed to introduce additional disabled facilities with extra features and more space to meet these needs including:
an adjustable, adult-sized changing bench
a tracking or mobile hoist (note that slings need to be provided by the user)
enough space for the disabled person and carers
a screen or curtain to allow for privacy
a shower (where possible)
a safe, clean environment
A RADAR key is required to access these facilities.
Baby changing facilities are provided within the following public conveniences. Opening times are the same as those for the public conveniences in which they are situated.
Cleethorpes, Kingsway: Baby changing (female conveniences only)
Grimsby, Garibaldi Street: Baby changing (male and female conveniences)
Grimsby, Market Hall: Baby changing (female conveniences only)
Grimsby, People's Park: Baby changing (within disabled facilities)
The National Key Scheme (NKS), previously known as the Royal Association for Disability Rights (RADAR) provide access to any facility showing the RADAR sign. Disabled toilets are wider than usual with handrails and facilities to enable easy use.
Accessing facilities
Keys are for individual use only and proof of disability or ailment must be provided. Keys can be purchased at a cost of £4, which covers administration fees and is non-refundable. They can be purchased from Cleethorpes Tourist Information Centre and Grimsby Fishing Heritage Centre.
Locations of facilities across the UK can be found by searching council web sites or by accessing the Nationwide Access Register.
Making a complaint about our toilets
If you would like to make a complaint about the condition of our toilets or about the paddle gates not working then please complete our online Complaints form.
Asset Management, New Oxford House, 2 George Street, Grimsby, North East Lincolnshire, DN31 1HB
Email: am.servicedesk@nelincs.gov.uk
Telephone: 01472 324646
Office opening times: Monday to Friday 8 am to 5 pm except bank holidays. Visits by appointment only.