LOSING a pet can be incredibly distressing and considering how to say a proper goodbye to a much-loved family member and friend can be a difficult and emotional journey.
Treasured Memories at Grimsby Crematorium is the only pet crematorium in North East Lincolnshire, offering bespoke funeral services for small animals to large dogs.
The friendly, reliable, and dignified service offered by the team will work with bereaved pet owners to make sure their loved one has the send-off they deserve.
Councillor Stewart Swinburn, portfolio holder for environment and transport at North East Lincolnshire Council, observed:
"Our pets often grow up with us, becoming a real part of the family, helping us create wonderful, lasting memories. It is only fitting that they receive a dignified farewell.

"Pets leave lasting impressions with many of us spending hours a day in their company. They all have unique personalities, give us joy and often unconditional love. Saying goodbye at the quaint chapel at Grimsby Crematorium is a lovely way to honour their lives and to remember the joyful times they have shared with us."
Bereaved owners can choose to take the ashes away with them or have them scattered or buried in the Treasured Memories Woodlands Cemetery, located within Scartho Road Cemetery, Grimsby.
The team at Treasured Memories aim to undertake pet cremations within two working days of receiving consent, after which the ashes are sealed in a biodegradable cremation box with a certificate of cremation.
There is also a chapel that can accommodate up to 12 people, where people can remember their pets in peace and tranquillity, or with a bespoke service and the option of webcasting facilities for those who cannot be there.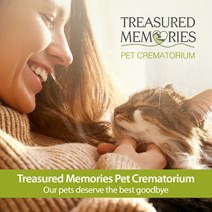 What people are saying about Treasured Memories
Jo
"I just want to say a big heart filled thank you to the lovely ladies and gents at Treasured Memories. I brought my beloved cat and she was treated with so much dignity and respect. The staff were so kind and comforting to me and helped make the whole goodbye so much easier to deal with. They helped me choose a lovely casket and went over and above getting pawprints for me. I really couldn't have got through this last few days without your help. My beautiful girl was treated just like a human would have been and I can't recommend their services enough. All that can be said is a huge Thank you to everyone involved for making this awful time a bit easier to process."
Linda:
"Thank you so much for your kindness when we lost our lovely Max."
Nichola:
"My auntie would like to thank treasured memories, especially Aaron for the personal care taken when her beautiful dog Chloe was cremated. All the staff were amazing and was a huge help to her at this difficult time. She would highly recommend this service when others are facing this difficult time. She cannot thank you enough."
Sarah:
"I would just like to thank everyone at Treasured Memories pet crematorium for helping us when our beloved dog Scruffy passed away. Nothing was too much for you and our dog was treated with nothing but respect from start to finish. Upon arrival we filled out some paperwork picked an urn and then our dog was placed in the Chapel for us to say our final goodbyes, thank you to everyone that helped our family during this difficult time xx"
Duncan:
"Treasured Memories looked after our gorgeous boy in a very fitting way. After we booked in at reception we drove the short distance around to the Chapel where we were met by a chap with a dog bed shrouded in white. I lifted Barney in and he was wheeled into the chapel where we were allowed some time to say our goodbye. Two days later we were contacted to come and collect his ashes along with a certificate assuring us that these ashes were his and only his. The whole thing was handled tastefully and respectfully and we couldn't have asked for more."
Tilly:
"We had our much loved Shih Tzu Sachi cremated here. The staff were lovely, nothing was too much to ask, no rushing us. I had asked to have her cremated the day we came as I wanted her ashes back home, she had never not be with us overnight. They let me see where she was going to be cremated, and I saw her placed inside and it turned on. I was there when she was born and I needed to be there when it was the final part. I couldn't praise Memories enough and when it's time for my others I won't hesitate to call them. Thank you x"
Contact details
Treasured Memories Pet Crematorium and Woodlands Cemetery are fully registered and licenced by the Animal and Plant Health Agency.
They do not have provision for larger animals such as horses or farm animals. Other pets are unable to attend the chapel, with the exception of service dogs.
For more information, call 01472 324869 or visit www.nelincs.gov.uk/TreasuredMemories