Three North East Lincolnshire Council-owned buildings are undergoing energy-saving improvements as part of a £1.6-million project to help in the battle against climate change.
North East Lincolnshire Council aims to be carbon Net Zero by 2040 and recently agreed an action plan to reach the ambitious goal.
Adopted by the Council in December, the Carbon Roadmap sets out the Council's aims to cut its carbon emissions to net zero by 2040 and for North East Lincolnshire to be carbon Net Zero by 2050.
Net Zero means reducing carbon emissions as much as possible and balancing the remainder through investing in programmes that increase carbon storage, such as planting more trees or artificial storage solutions.
The Council declared a Climate Emergency in September 2019. It has taken significant steps, both before and after the declaration was made, to increase energy efficiency and reduce its carbon emissions.
In the latest of these measures, energy-saving measures are underway at three council-owned buildings.
These include a range of upgrades to reduce energy consumption, such as better insulation and low-energy lighting, alongside innovations to generate green energy through devices such as solar panels and air source heat pumps.
North East Lincolnshire Council secured a £1.6-million grant from the Salix Public Sector Decarbonisation Scheme (PSDS) to carry out the works.
Salix provide capital for the public sector to reduce their energy costs by enabling the installation of modern, energy-efficient technologies and replacing dated inefficient technologies.
Buildings earmarked for enhancements include the Innovation Centre at Europarc, Beacon Academy and Waltham Library. The works are managed by the Council's regeneration services partner EQUANS and are expected to cut the Council's carbon emissions by 106 tonnes and support 41 direct jobs.
Cllr Phillip Jackson, Leader of the Council, said:
"We've set an ambitious target to be a carbon-neutral council by 2040. Meeting this target is one of the biggest projects the Council has undertaken and is vital in mitigating the damage done by polluting carbon emissions.

"Reducing our energy consumption benefits the environment and lowers running costs, which helps keep council tax down.

"One of the biggest contributors to our carbon emissions is the energy we use to heat our buildings.

"We can reduce these emissions by increasing the energy-efficiency of our buildings, using our buildings to generate power and by switching to renewable sources of energy.

"The works we are carrying out now are a further step in our mission to becoming carbon Net Zero and follow other energy-efficiency improvements completed in recent years, such as converting our street lights to low-energy LED bulbs, upgrading our buildings and introducing more electric vehicles in our fleet."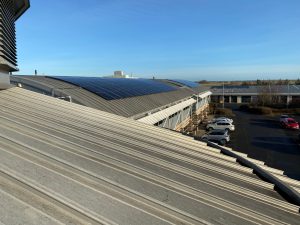 See how much energy the Council uses
The Council publishes its monthly energy usage to help people understand how much energy we use. The energy dashboard shows the monthly energy use for the council. See the council's energy and water use at https://www.nelincs.gov.uk/keeping-our-area-clean-and-safe/renewnel/energy-and-water-consumption-and-carbon-emissions/
What is net zero?
Net zero refers to achieving a balance between the amount of greenhouse gas emissions produced and the amount removed from the atmosphere. There are two different routes to achieving net zero, which work in tandem: reducing existing emissions and actively removing greenhouse gases.
A gross-zero target would mean reducing all emissions to zero. This is not realistic, so instead the net-zero target recognises that there will be some emissions but that these need to be fully offset, predominantly through natural carbon sinks such as oceans and forests. (In the future, it may be possible to use artificial carbon sinks to increase carbon removal, research into these technologies is ongoing.)
When the amount of carbon emissions produced are cancelled out by the amount removed, we will be a net-zero emitter. The lower the emissions, the easier this becomes.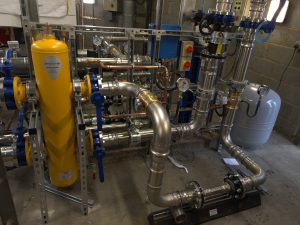 Building upgrades include:
Innovation Centre
Air source heat pump
LED Lighting upgrade
Photovoltaic (PV) solar panels on roof to generate electricity from sunlight
Beacon Academy
New roof
New windows
Improved insulation
Low energy LED lighting
PV solar panels on roof to generate electricity from sunlight
Battery storage
New efficient taps to reduce water consumption
Air source heat pump
Waltham Library
Air source heat pump
PV solar panels on roof
Previous works to improve energy efficiency
The £9.2-million Smart Energy Greater Lincolnshire project ran from 2018 to 2021 and was funded by ERDF and Salix. It upgraded energy efficiency in 20 North East Lincolnshire buildings and nine public buildings in Greater Lincolnshire, and provided grants/support to 451 small to medium enterprises.
As part of a pilot project to reduce the council's energy bills and carbon emissions, we installed photovoltaic (PV) solar panels at six sites across the borough in 2016.
Cleethorpes Leisure Centre
William Barcroft Academy
Springfield Academy
Municipal Offices, Grimsby
Grimsby Leisure Centre
King George V Stadium
About Salix
Salix Finance is a non-departmental public body, owned wholly by Government. Salix is funded by the Department for Business, Energy and Industrial Strategy, the Department for Education, the Welsh Government and the Scottish Government.
Salix provides capital for the public sector to reduce their energy costs by enabling the installation of modern, energy-efficient technologies an