A new fish sculpture is swimming its way to Cleethorpes to remind people about the problems caused by plastic pollution in our seas.
North East Lincolnshire Council has teamed up with Grimsby-based Blackrow Engineering and several other sponsors to bring the steel haddock to the resort's Central Promenade in September.
The fish is a giant recycling bin for plastic bottles to help keep the beach plastic free.
Name that fish
Children can now enter a competition to name the new fish.
The competition is now closed.
Children will need their parent or guardian's consent to enter.
All entries need to be in by the extended deadline of 5pm on Friday 21 August 2020.
Scale model
Blackrow Engineering produced a scale model of the fish to show what the finished sculpture looks like.
It will be installed on a plinth near the lifeboat station later in the summer.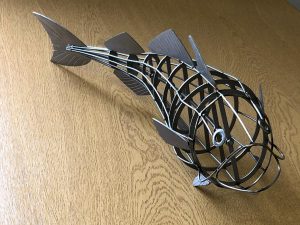 A scale model of the new fish sculpture.
Ben Tiffney, operations director at Blackrow Engineering, said:
"From initial concept design to full 'scale' manufacture we have been excited to create this sculpture.

"We are extremely proud to be part of this project and thrilled to be able to manufacture something like this for our community.

"We hope this helps make a big difference to our beach and encourages youngsters and adults alike to consider the impact of plastic pollution on our environment."
Cllr Callum Procter, portfolio holder for Tourism, Heritage and Culture, added:
"I'd like to thank Blackrow Engineering and all the other project sponsors for helping bring this superb sculpture to Cleethorpes.

"Everyone has a part to play in keep litter off the beach and in the bin.

"Our new fishy friend is a reminder to recycle and do your bit to keep plastic out of the sea.

"The fish really needs a name and we can't wait to see your suggestions."
Sponsor the new sculpture
Sponsors and supporters of the project include Dalkia Waste Energy, XceCo, Engie, AS Motors and Ebb and Flo.
Please contact Ben Tiffney on 01472 889200 or email ben@blackrow.co.uk if you or your business is interested in sponsoring the sculpture.
Or support the crowdfunding effort at www.justgiving.com/crowdfunding/plasticcollectionsculpture.