North East Lincolnshire Council is launching a new weekly food waste collection on one of its bin rounds next month.
As part of their drive to help people recycle more and waste less, the Council's waste team will start collecting food waste from 4,680 properties every week from the end of April.
The homes are in parts of wards including Humberston, Sydney Sussex, Yarborough, Immingham and Park.
Food waste makes up about 25 per cent of the average household waste bin and could be recycled.
By introducing this pilot, the Council is helping people recycle more and reduce the amount of rubbish they put in their household waste bin.
Food waste is taken to a special processing plant where it is used to generate energy and produce a fertiliser to grow crops. The bin liners are separated during this process and sent to an energy from waste plant.
Separating food waste from other rubbish means household waste bins are cleaner and don't smell as much.
Cllr Stewart Swinburn, portfolio holder for environment and transport at North East Lincolnshire Council, said:
"We are listening to people's views on recycling and this is the next positive step to helping households recycle more.

"The transformation of recycling collections also saw the introduction of new wheelie bins for recycling last year and, from 8 March, increasing the types of plastic people can recycle at home.

"From 2023, the Government wants all councils to collect food waste separately.

"By starting the food waste pilot now, the Council is preparing households in the area for these future changes.

"We can learn more about what impact it will have and research how weekly food waste collections can be rolled out to all homes in the next few years.

"Throwing away less food at home is one of the simplest things each of us can do every day to help protect our environment."
What is happening and when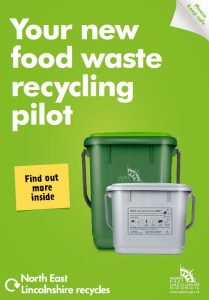 At the end of March, the Council will write to the households in the pilot area to inform them about the new food waste recycling service.
From the week starting 19 April, the Council will deliver the following to the homes in the trial area:
• A silver-coloured kitchen caddy to collect food waste
• A roll of bin liners to use in the caddy
• A green outdoor food waste bin (emptied every week)
• An instruction leaflet to explain how to use the new service.
Each home will be given a small caddie to keep in their kitchen and a larger food waste bin for outside.
Collections start from Monday 26 April. Households just leave the food waste bin out with their wheelie bin on their usual collection day.
Both the caddy and the food waste bin have lockable lids. The kitchen caddie holds five litres and only takes up about the same amount of space as a toaster or kettle?
The outdoor bin is much smaller than a standard wheelie bin, it holds 23 litres.
The Council is introducing the pilot on a specific bin round. Only households on that round can take part.
The results of the pilot will be monitored, with a longer-term view of rolling out a food waste recycling service borough-wide.