North East Lincolnshire Council has wrapped its new fleet of recycling vehicles with epic scenes that celebrate the borough's beaches, parks, and green spaces.
With 20 spectacular images in total, each one serves to encourage people to appreciate the environment on their doorstep and be inspired to take better care of it.
The artwork is a reminder of the value of North East Lincolnshire's unique environment and asks people to look after it by putting litter in a bin or taking it home.
As well as familiar destinations such as Cleethorpes Beach, Weelsby Woods and People's Park, the campaign includes lesser-known places in different parts of the borough where people enjoy nature and greenery.
Thank you to everyone who took the time to suggest locations near where they live during the appeal in September.
People were also invited to name the new vehicles, the chosen names will be revealed soon.
New vehicles arrived this week to replace 11-year-old lorries
The Council took delivery of 10 new recycling vehicles this week. Look out for them as they are rolled out on the recycling bin rounds before Christmas.
Graphic designers at North East Lincolnshire Council created the ambitious campaign artwork with images by photography agency Double Red.
Vehicle manufacturer Dennis Eagle funded the wraps through the social value element of their contract to supply the vehicles.
All the vehicles are 26 tonne Dennis Eagle Elite 6 models with electric bin lifts and are hand built at their factory in Warwick, England.
They replace 10 ageing bin lorries the Council bought in 2011, which will now be put up for sale.
The Council's fleet includes 29 waste and recycling collection vehicles. These are used for domestic waste, recycling, garden waste, bring to sites and food waste.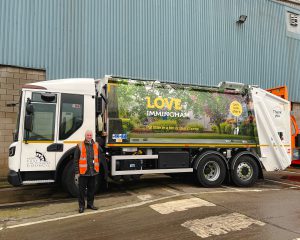 Cllr Stewart Swinburn, portfolio holder for Environment and Transport at North East Lincolnshire Council, said:
"From the Fitties Beach to the River Freshney, and the Lincolnshire Wolds to Weelsby Woods, our new campaign aims to emphasise what a thriving, lush environment we are lucky to have in North East Lincolnshire.

"The 10 new vehicles are like a rolling gallery with giant postcards from different parts of the borough.

"It's more important than ever that we look after our local environment. The new campaign reminds us that there is one simple way we can all do our bit, and that is to put litter in a bin or take it home."
Photographer Shaun Smith, from Double Red, said:
"I have lived in the area for over 20 years and I didn't know about all these amazing places.

"I was blown away by the beauty on our doorstep. We need to do our part to keep them clean and protect the environment. It's not every day that my office is as nice as this!"
The vinyl wrapping was carried out by specialist company Creative Vehicle Wrapping, based in Cannock, Staffordshire. The body of each vehicle has been fully wrapped and each side features a different image of parks, attractions and locations across Lincolnshire.
Jonathan Thomas, Director, Creative Vehicle Wrapping, added:
"We really enjoyed working on this campaign with North East Lincolnshire Council. Our team's expertise in vinyl wrapping and in-depth knowledge of refuse vehicles was crucial in ensuring the images were reproduced and applied to the highest possible standards. Using these vehicles as slow moving billboards is an innovative and effective way to communicate with local people."
Dennis Eagle's Regional Sales Manager Matt Horwell said:
"Looking after the environment in such a beautiful part of the world is hugely important and we've worked very closely with North East Lincolnshire Council to get the right vehicles to do just that.

"These are 26 tonne trucks with a great payload but they are especially narrow which gives them better manoeuvrability. This means they'll do the job more quickly and efficiently in narrow country lanes or urban streets with lots of cars therefore they will cause fewer hold-ups for drivers. And they have all been delivered in time for the extra busy Christmas period!"
The new artwork is displayed first on the new fleet of recycling vehicles. The aim is to promote it across other channels and share it with community groups and volunteers who give up their time to look after many of the area's best-loved parks and destinations.
If your group is interested in using the campaign materials, please contact communications@nelincs.gov.uk.