Councillors, enforcement officers and officers from Humberside Police came together for a day of targeted action on Grimsby's East Marsh.
Wednesday's joint activity was the latest in a series of patrols that see closer working between the council, its partner Equans, private environmental enforcement patrols and Humberside Police.
Enforcement activity was targeted mostly at parking offences and littering.
Enforcement results include:
29 motorists given verbal warnings or told to move on
5 penalty charge notices for parking offences
3 fixed penalty notices for littering
Cllr Ron Shepherd, portfolio holder for Stronger Communities at North East Lincolnshire Council, and ward members Cllr Stephen Beasant and Cllr Nicola Aisthorpe took part in the patrols and used the day to speak with people living or working in the Freeman Street area.
Cllr Shepherd said:
"Our day of action on the East Marsh gave us the opportunity to speak with shop owners, market traders and members of the public and hear their opinions about how we can help.

"Those we spoke with said it was really encouraging to see the Council and the police working together and providing a highly-visible, reassuring presence on the streets.

"People told us they appreciated us listening to their concerns, offering advice and taking action against those who flout the law.

"Unlawful parking was a topic that came up several times. There's plenty of free parking in Freeman Street, both on-street and off-street, so there's no need for motorists to park illegally.

"Not only does illegal parking cause disruption to buses, bin wagons and other vehicles, it also puts others at risk by potentially blocking access for emergency vehicles.

"I'm grateful to everyone who took part in this latest day of action, and I look forward to more activity like this in the coming weeks."
High visibility patrols like these are designed to give different organisations and teams the chance to pool resources and work together to engage with the community, educate people about the law and, when needed, take enforcement action against offenders.
Inspector Matt Stringer, from the Grimsby East Neighbourhood Policing Team, said:
"It was great to see so many partners getting together for this day of action.

"My teams are out and about in the East Marsh every day working to support the community and to target those intent on committing criminal activity and antisocial behaviour. To be able to bring different police units and council teams together allowed us to have a visible and impactive presence in the area.

"Days like these not only act as a visible presence and reassurance, but also get immediate results. We were able to speak to a number of residents and act upon their concerns, and also dealt with a number of motorists for road traffic offences, including seizing the vehicle of a disqualified driver. Officers from Operation Galaxy also supported my teams by conducting proactive searches and arrested a man who was wanted on prison recall.

"Whilst this is the type of work we do every day, I hope it showed the people of the East Marsh that we are here for them. We want to work with them to address their concerns and as ever would encourage people with any information which may be useful to us, to contact us on our non-emergency number 101, or anonymously through Crimestoppers by calling 0800 555 111.

"We are determined to support the community and for them to feel the positive impacts of our work in the area."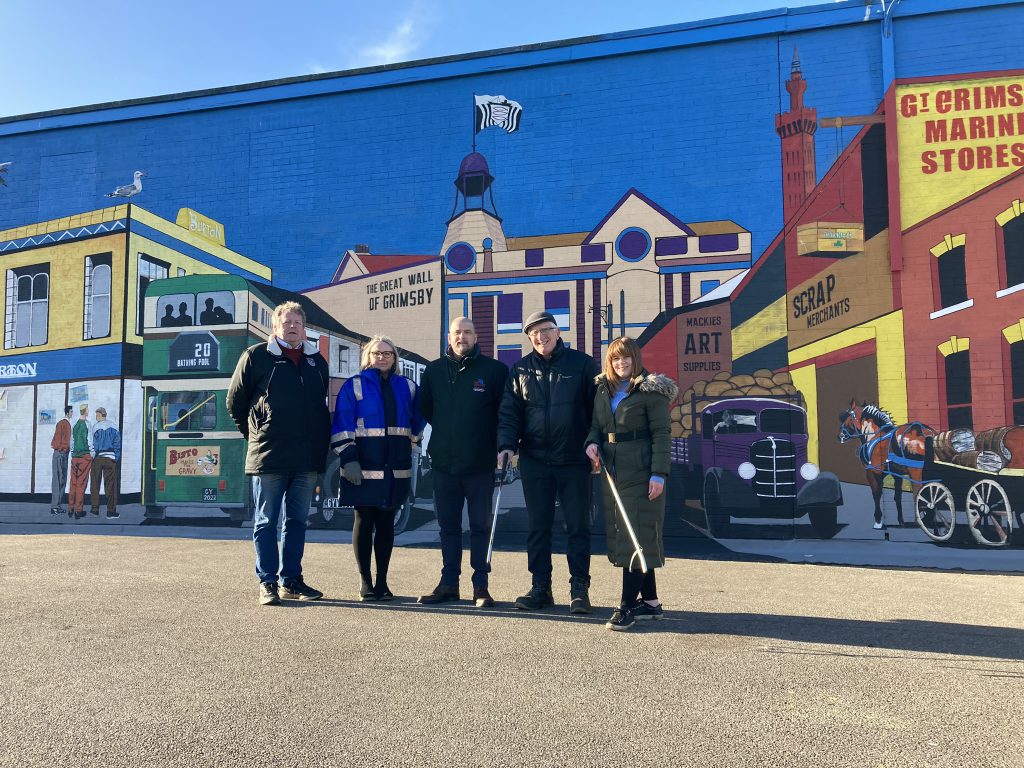 The following day, North East Lincolnshire Council's commercial regulatory team, including Trading Standards, alongside Humberside Police, and supported by specialist search dogs from B.W.Y Canine Ltd, visited three businesses in Freeman Street along with two other premises.
This was part of an intelligence-led operation targeting illicit tobacco dealers, coming under Operation CeCe – a joint venture between National Trading Standards and HMRC.