THE BOROUGH OF NORTH EAST LINCOLNSHIRE
THE NORTH EAST LINCOLNSHIRE BOROUGH COUNCIL
ROAD TRAFFIC REGULATION ACT 1984
TEMPORARY FOOTPATH CLOSURE (PART OF PUBLIC FOOTPATH 11, GRIMSBY) ORDER 2020 (2)
WHEREAS the North East Lincolnshire Borough Council (hereinafter referred to as "the Council"), the Highway Authority for the above-mentioned path in the Borough of North East Lincolnshire, is satisfied that access should be prohibited on the said path by reason of it being necessary to avoid danger to persons using the path whilst works are carried out on it.
NOW THEREFORE the Council in exercise of its powers under Section 14 (2) (a) of the Road Traffic Regulation Act 1984, as amended by the Road Traffic (Temporary Restrictions) Act 1991 and of all powers them enabling in that behalf hereby make the following Order:-
This order shall come into operation on 4th September 2020 and may be cited as "The North East Lincolnshire Council (Temporary Footpath Closure of part of Public Footpath 11, Grimsby) Order 2020".
The Interpretation Act 1978 shall apply in the interpretation of the Order as it applies to the interpretation of an Act of Parliament.
The dates and times above are correct at the point of print however should weather or any other conditions impact the start of the works they will go ahead when it is safe to do so.
No person shall use or permit to use parts of Public Footpath 11 in Grimsby for a period of six months commencing on 4th September 2020 and shall continue until the Order ceases to operate unless extended by Order of the Secretary of State for Transport, or until the said works are completed, whichever is the earlier. The path will be reopened to pedestrians as soon as possible.
This Order is executed by North East Lincolnshire Borough Council.
Acting by two Authorised Signatories on this 1st Day of September 2020.
Authorised Signatory   Eve Richardson-Smith Deputy Monitoring Officer 
Authorised Signatory   K. Thompson – Specialist Property Lawyer
Map: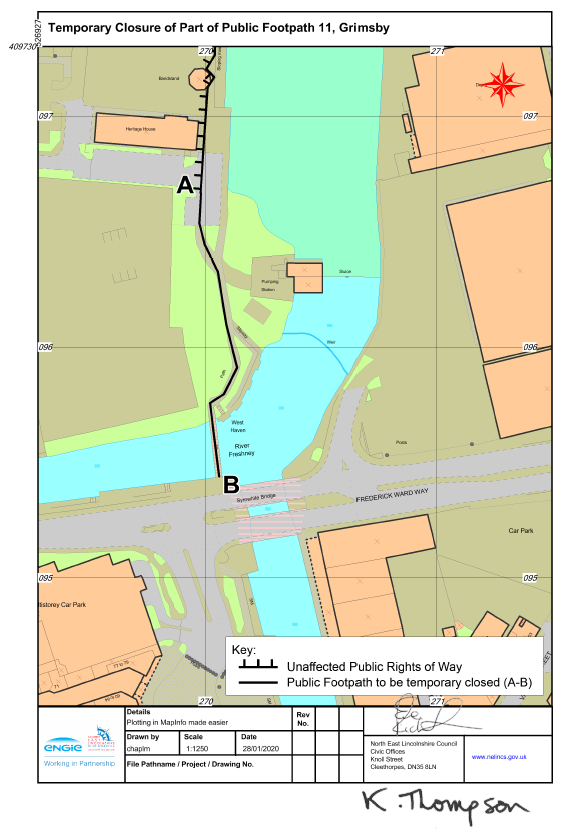 Order: