As we look forward to the Christmas break, let's also take time to reflect on the
12 months we have had in North East Lincolnshire. On this, the first full year back
to normality post-COVID, we were able to enjoy a whole host of events – and the
beautiful summer weather saw them attract some bumper crowds. Festivals,
military parades and more brought smiles and laughter.
Overshadowing it all however was the death of Her Majesty and here in the
borough, the period of National mourning was marked with official events as
residents laid floral tributes in our towns and signed Books of Condolence.
In pictures and words, we will take you through the year – there were many more
events and activities, but here's just a few!
January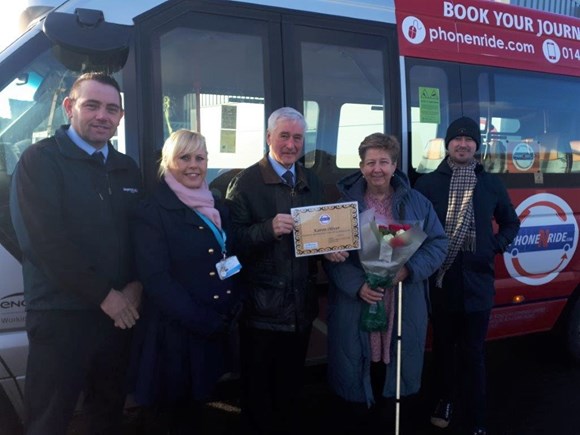 Phone 'n' Ride. It's a vital service for many of our residents who, quite simply, would not be able to travel around North East Lincolnshire without it. We celebrated the service by presenting avid user Karen Oliver with an award for using Phone 'n' Ride a bumper 542 times – travelling 1,100 miles! "I'm partially sighted so I rely on this wonderful service to take me to my place of work and home again. Without it, I couldn't work, let alone all the other reasons I need it," said Karen. If you want to use Phone 'n' Ride in 2023 you can register and book a journey using the online service at phonenride.com or by calling the Phone 'n' Ride team on (01472) 324440 – 8.30am to 5pm, Monday to Friday. Bookings can be made up to 14 days in advance. It operates 6.30am to 6.30pm, Monday to Saturday (except bank holidays)
February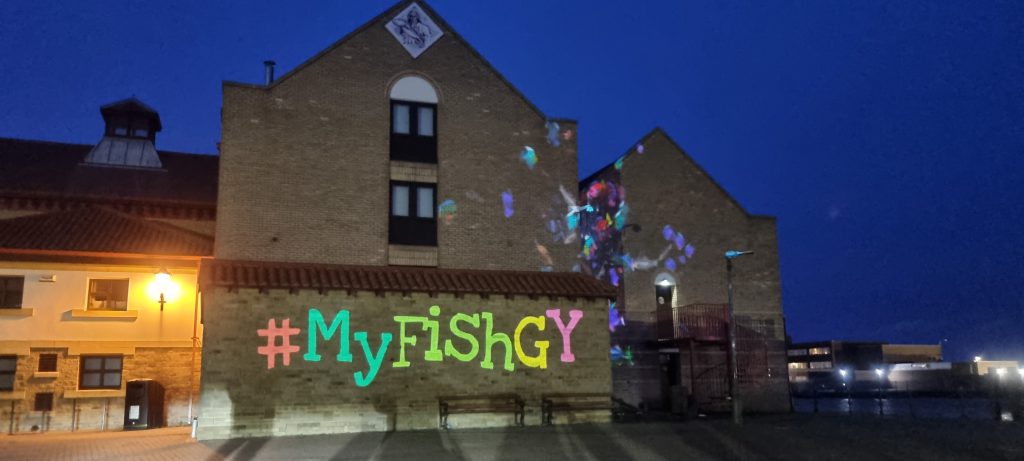 If you got wrapped up on a cold February 2022 evening and visited Grimsby Fishing Heritage Centre, you would have enjoyed the launch of a real creative treat. #MyFishGY began with a great
moving projection on the outside side wall of the centre. Lasting a year (so watch out for the finale in Feb 2023), people can create their own fish and submit them. The creations are being gathered to animate on the side of some of our most prominent buildings – brought to life to swim in a virtual sea. There's still time to take part, go to MyFighGY | Have You Seen My Fish? (myfishgy.co.uk).
Globally the world was rocked by the Russian invasion of Ukraine, an act of aggression that led to a massive humanitarian effort. North East Lincolnshire residents played their part with donation points set up for supplies and people opening their doors as part of the Government's scheme to settle those evacuating into UK homes.
March
The dark Cleethorpes sky was lit up by our new Luminations lighting artwork along the North Prom. The 500-metre animated installation sweeps along the walkway, softly rolling with bursts of exhilarating light. Esther Rolinson was the award-winning British visual artist behind the display. The artwork was the final piece of public art for the North Prom, paid for through the Coastal Communities Fund (CCF). Other pieces include the exercise furniture, and the shutter art.
April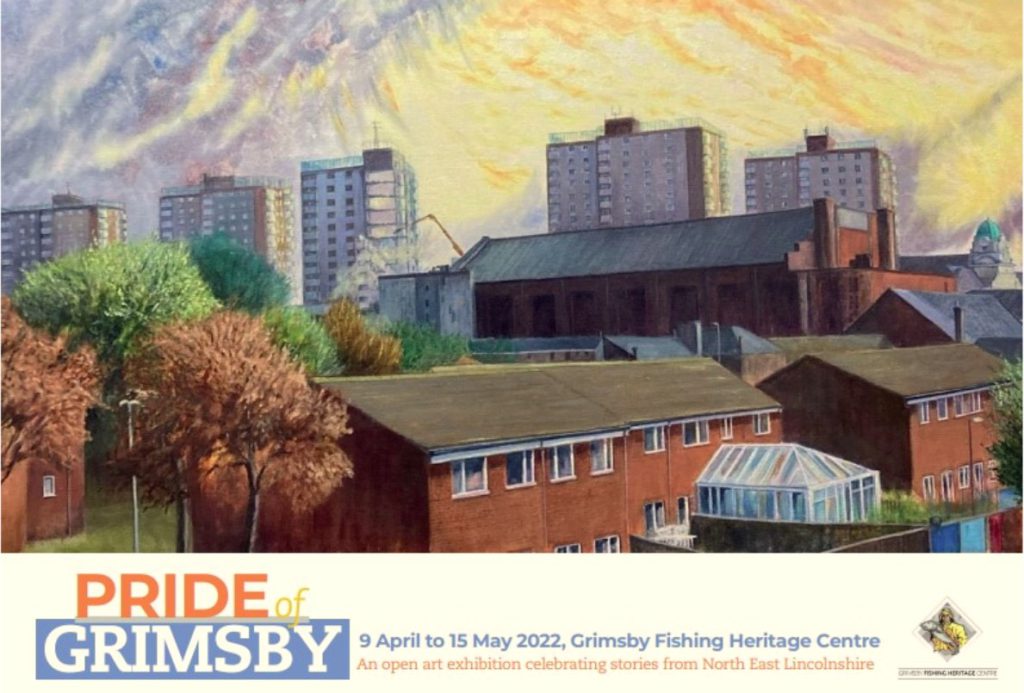 A year of great exhibitions started at Grimsby Fishing Heritage Centre with the launch of 'Pride of Grimsby'. The display of original, contemporary artwork showcased the talented artists we have in our area. Personal experiences, family and community, heritage, the environment, and local industry were all reflected in the pieces of artwork.
May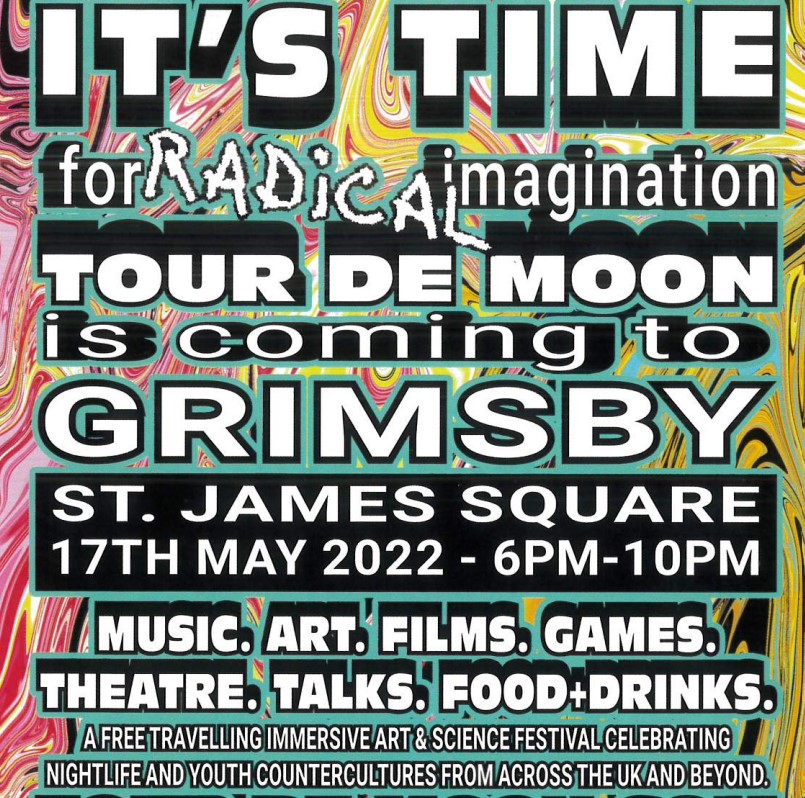 The Tour de Moon Convoy visited Grimsby's St James Square – complete with a giant squid! We were one of the stopping off places as part of a national festival for the Moon Convoy, a sustainable armada of vehicles, appearing and disappearing at night and bringing interactive and ultra-violet experiences to life. Visitors enjoyed cosmic transformations through live music and DJ sets, a GIANT SQUID called Archie, talks, film screenings, an inflatable game, a 9 piece Arkestra and a larger than life red phone through which they could 'talk to the Moon'.
June

A bumper month for events and there were so many highlights. The fantastic Armed ForcesWeekend was back with a bang post-COVID. The great weather brought out massive crowds for a military and family fun extravaganza – what a weekend! Our North East Lincolnshire residents also enjoyed fun and celebration to mark the Platinum Jubilee of Elizabeth II – not knowing just how significant that weekend would be in 2022. Then there was the Ørsted Great Grimsby 10K. Hundreds of runners and dedicated volunteers braved a rainy June day for the race, and the St Hugh's Hospital Family Fun Run. Almost 1,700 people finished the course starting at Grimsby
Town Hall and finishing in People's Park. There was a fantastic atmosphere in the race, even though many runners and volunteers sent their apologies and headed to London to watch Grimsby Town FC in the play-off final….and what a final it was! The fantastic win for GTFC meant re-entry into the Football League and was marked by a quite unbelievable civic reception at Grimsby Town Hall with thousands of fans lining the streets for the open top bus parade.
July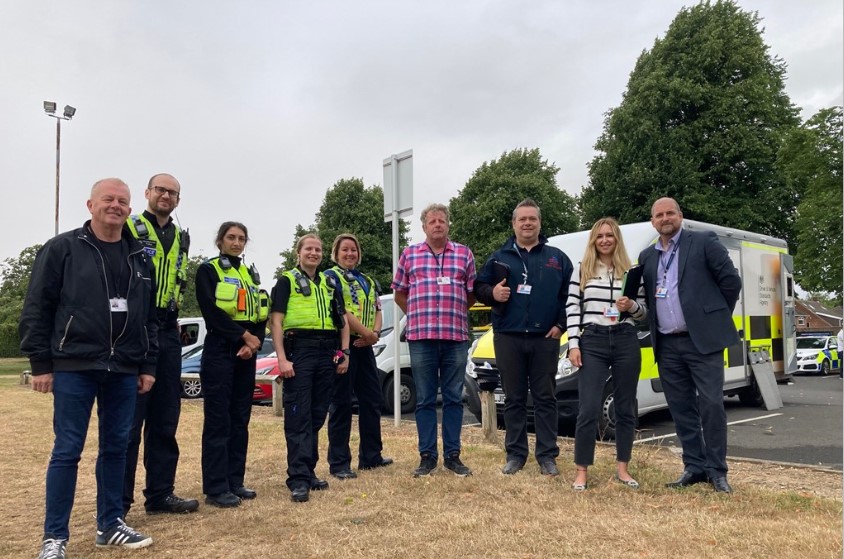 Working with others to keep North East Lincolnshire safe! This month saw our council's hard-working Environmental Enforcement and licensing officers' team unite with Humberside Police and Driver and Vehicle Standards Agency (DVSA) to drive illegal and unsafe motoring off our roads. Those stopped in their tracks included a van driver on his mobile, motorists with defective lights and tyres and a pavement-riding scooter rider.
August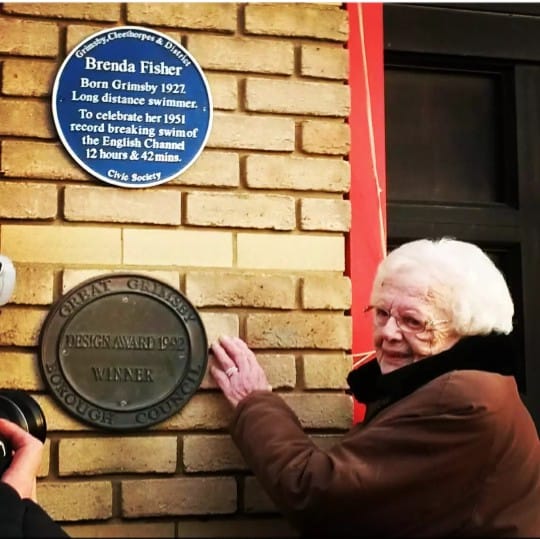 St James' Square is fast becoming a hub for cultural activities and family events. August was no different as cutting-edge technology was used by artists in a real-world digital participatory art installation. Walk This Way was created by Annabel McCourt and Adrian Riley, the artists behind the Square's Murmuration creation on the wall and the etched paving.
There was sad news for Grimsby in August as one of its most famous daughters, the inspiring Brenda Fisher passed away, aged 95. Born in 1927 in Scartho, Brenda went on to break the women's world record for swimming the English Channel in 1951. Sponsored by the Daily Mail, the swim took 12hrs 42 minutes, breaking the previous record of 13hrs 20mins set the year before. Her homecoming reputedly saw crowds of more than 20,000 people welcome her back to the town. For her channel swim, Brenda received £1000 and a silver cup offered by Eva Peron – wife of the then Argentine Republic's President!
September: Queen Elizabeth II 1926-2022.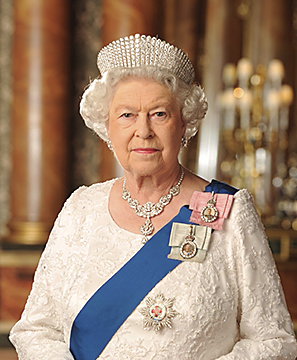 "It is with profound sadness that North East Lincolnshire Council learnt of the death of Her Majesty The Queen today. Queen Elizabeth II had served her country, Commonwealth and people loyally for more than 70 years and she is the longest serving Monarch to have overseen the United Kingdom and Countries of the Commonwealth. Flags across the Borough have been lowered to half-mast as a sign of
respect for Her Majesty's passing."
The above message, from Cllr Steve Beasant, the Mayor of North East Lincolnshire, was posted on North East Lincolnshire Council's website on the evening of Thursday 8 September and marked a moment in world history that we will never forget. Between that day and the State Funeral of Her Majesty, Queen Elizabeth II, North East Lincolnshire residents united with the country in the official period of mourning. We also witnessed the State procedures that mark the passing of a Sovereign. National minutes of silence, official Civic services, the signing of Books of Condolence, Union flags lowered and then raised for Proclamations before being lowered again. Meanwhile, flowers were left at key public places in Grimsby, Cleethorpes and Immingham as local people wanted to pay their respects. It was also fitting that Grimsby Fishing Heritage Centre was host to a unique exhibition, which included a copy of the late Queen's first official portrait. The original portrait, by artist Pietro Annigoni, hangs in the Fishmonger's Hall in London. Only two copies of the original portrait were made for the Queen's Platinum Jubilee and Grimsby Fishing Heritage Centre was fortunate enough to be one of the venues receiving a copy. Upon Her Majesty's passing, representatives of the fishing industry and the Fishermen's Mission took time to visit the Centre and pay their respects.
October
As North East Lincolnshire looks to attract new business and industrial development to the area, it has a responsibility to protect and enhance the natural environment. October saw a major step in the right direction as a wetland habitat called Novartis Ings was completed on South Humber Bank shoreline. Joining its sister site Cress Marsh, we now have two unique strategic mitigation sites – meaning if an industrial development is being planned here, the land to offset the build is already created. The site has been developed, thanks to funding from ERDF and the Greater Lincolnshire LEP, and support from Novartis Grimsby. More than 500 curlew were counted in the first few weeks of the sites completion.
November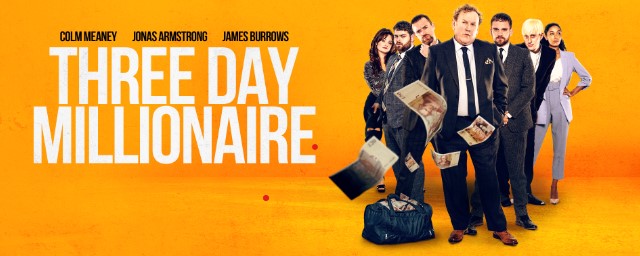 Well there we were – Grimsby on the big screen! Three Day Millionaire was released with a grand premiere at Cleethorpes' Parkway Cinema. Filmed entirely in Grimsby and with hundreds of local people taking part, along with a stellar cast, award-winning director Jack Spring said it had been 'a labour of love'. The film is based on the fishermen who returned to their home port with fistfuls of cash from the sale of large hauls of fish. They splashed out on the short time they had back on shore.
December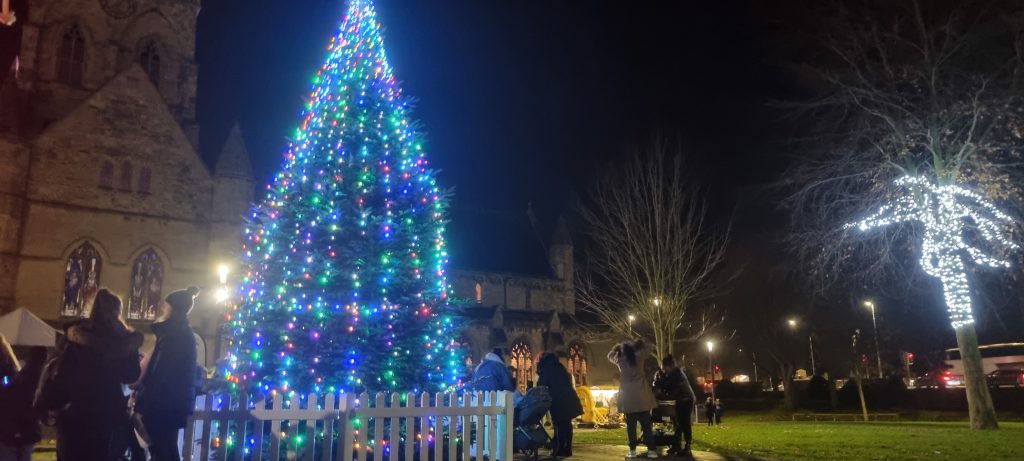 Not sure where to start on this month, there was so much happening. The Minster was still playing host to Luke Jerram's stunning Earth installation, there was the official unveiling of the last of the terrific 'Paint Your Town' murals, the St James' Square Christmas tree is a stunner, as is the one in St Peter's Avenue in Cleethorpes. Then there's the traditional 'displays' at Grimsby's Community Recycling Centre.
It's certainly been a packed year and we haven't even mentioned Edible
Grimsby, Grim Falfest, the Festival of the Sea, the new People's Park café,
the new Reflections café, the restored balconies along Cleethorpes' Alexandra
Road…to name but a few things! Who knows what 2023 will bring, but let's for
now simply wish everyone a very
happy New Year.