Five bikes have been presented to NHS heroes who were nominated for their efforts during the COVID-19 pandemic.
The competition, by North East Lincolnshire Council and its regeneration partner ENGIE, was sponsored by Cottingham-based charity, R-evolution, who supplied the prizes.
Working with the transport team, the competition was launched asking people to nominate their NHS hero to be entered into a prize draw for a chance to win a bike, along with bike accessories, as a chance to say thank you to our NHS frontline workers.
Five bikes were awarded as prizes to the winners this morning (Wednesday 26 August) at the Diana Princess of Wales Hospital.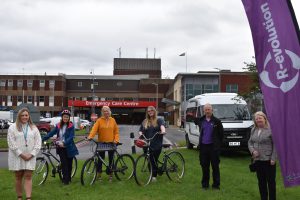 Councillor Margaret Cracknell, portfolio holder for health and wellbeing, presented the winners with their prize alongside, Eve Jenkins, travel planning officer at ENGIE and representatives from North Lincolnshire and Goole Foundation Trust and R-evolution.
Prize winner, Sally Buckingham, said: "I am so grateful for winning a bike. At the moment, I walk to work which takes me an hour. I don't mind in the mornings, but I don't always feel safe walking home in the dark on my own. Having a bike will cut my journey time down hugely and means I can get home safely and quickly to my children."
Councillor Cracknell said: "Congratulations to all those who have been successful in winning a bike. This competition is just a small token of our thanks to the frontline NHS workers who have been crucial to our response during the COVID-19 pandemic.
"Working long shifts taking care of others, it can be easy to lose sight of our own health and wellbeing. Cycling to work is a great way of keeping fit and also taking care of our mental wellbeing by spending time outdoors."
Councillor Stewart Swinburn, portfolio holder for environment and transport, added: "The council and ENGIE are extremely proud to have worked alongside R-evolution to run this competition.
"The NHS have done an amazing job during COVID-19 and they continue to amaze in their response. I want to thank not only today's winners, but all of the NHS staff in North East Lincolnshire, who continue to work tirelessly on the frontline."
R-evolution is funded by the council's Access Fund to promote cycling and the benefits of getting out on your bike for both your health and the environment.
The event took place with social distancing measures in place to ensure the safety of everyone that attended.
For more information sustainable transport events in North East Lincolnshire, contact transport@nelincs.gov.uk or call (01472) 326290.