Armed Forces
Armed Forces Community Covenant
The Armed Forces Covenant is a promise from the nation ensuring that those who serve or who have served, and their families, are treated fairly. This commitment is made in recognition of the sacrifices they make on behalf of the country. The Armed Forces Covenant is not designed to give the Armed Forces, Veterans and their families preferential treatment compared with other citizens but it should ensure that they get a fair deal and are not disadvantaged because of their service.
Across North East Lincolnshire many organisations including the Council, NHS and Job Centre have pledged to support those who need it by being one of the first Authorities in the Country to sign our own Armed Forces Community Covenant.
Our Armed Forces and Veterans' Charter encourages public bodies and partner organisations to support in-service and ex-service personnel from the military and the Merchant Navy, their families, veterans and carers.
Access to social and rented housing, retraining for employment, and support groups for servicemen and women suffering from post-traumatic stress disorder are just a few of the issues specific to veterans which the Charter addresses through better joined-up working between agencies.
The Armed Forces Community Covenant is a statement of mutual support between our civilian community and our local Armed Forces Community.
For more information read our Community covenant booklet (PDF) or go to the Armed Forces Covenant website.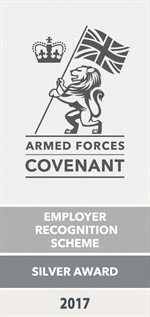 Defence Employer Recognition Scheme (ERS)
North East Lincolnshire Council was awarded a Defence Employer Recognition Scheme Silver award in October 2016.
This recognises our support of the armed forces and their families.
Armed Forces Events
Armed Forces support
Use the expandable menu below to find advice and guidance on the issues affecting you.