Grimsby Town Hall
About the Town Hall
Grimsby Town Hall was built over 150 years ago in 1863 and is used as a base for the Mayor of North East Lincolnshire and most Council meetings. Members of the public are entitled to attend such meetings to see and hear their elected representatives discuss more important issues.
At the rear of The Town Hall is the archives section whose staff store and research many important documents relating to the area's history.
The Town Hall is also an ideal venue for a special event or occasion. It can accommodate up to 300 people in elegant surroundings and is used for wedding receptions, concerts, seminars and exhibitions etc. The Town Hall offers elegance and efficiency and an outstanding setting for all those important occasions, either business or personal, when that "something special" is required.
The building of the Town Hall in its present form was completed in 1888 when its uses included a Police Station and Magistrates' court, complete with cells which have been converted into the Town Trap museum.
The Grimsby News at the time described the building as "…at once handsome, complete and convenient, destined to become one of the show places of the County." This description of one of Great Grimsby's few really magnificent buildings is at least as valid today as it was then.
The beautiful glazed windows of the Council Chamber depict the arms of families and individuals and also military and industrial concerns closely related to the history of Grimsby.
You can hire a room at Grimsby Town Hall by calling 01472 324109 or by completing our Grimsby Town Hall booking enquiry form. Before any booking can be confirmed we will need to find out the details of your event and also check the availability of the rooms.
Information on the rooms, capacities and prices can be found in our Town Hall leaflet (PDF) and Fees and Charges (PDF). If you require any further information about room hire please contact us by email or telephone using the contact details below.
Did you know you can now get married in the elegant surroundings of Grimsby Town Hall?  Your ceremony can be conducted in the beautifully decorated Bremerhaven Room, which can comfortably accommodate 60 guests.  For larger parties, you can hold your ceremony in the Banqueting Room or the Assembly Room.  Both rooms have been recently refurbished, bringing back to life the original décor.
Following on from your ceremony, why not stay at the Town Hall to celebrate your nuptials in the Assembly Room.
NOTE : If you are wanting to have your ceremony at Grimsby Town Hall, you will need to arrange a Registrar to attend your ceremony.
For further information and date availability please contact Grimsby Town Hall on 01472 324109 or email town.hall.bookings.grimsby@nelincs.gov.uk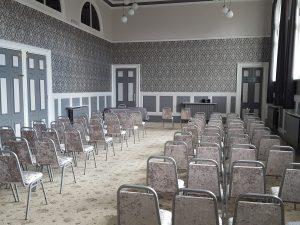 Grimsby Town Hall, Town Hall Square, Grimsby, North East Lincolnshire, DN31 1HX
Email: town.hall.bookings.grimsby@nelincs.gov.uk
Telephone: 01472 324109
Opening times: Monday to Friday 9 am to 5 pm except bank holidays