Armed forces
Armed Forces Covenant
The Armed Forces Covenant is a promise from the nation ensuring that those who serve or who have served, and their families, are treated fairly. This commitment is made in recognition of the sacrifices they make on behalf of the country. The Armed Forces Covenant is not designed to give the Armed Forces, Veterans and their families preferential treatment compared with other citizens but it should ensure that they get a fair deal and are not disadvantaged because of their service
Across North East Lincolnshire many organisations and companies, including the Council, NHS, Phillips66 and Job Centre have pledged to support those who need it by being one of the first authorities in the country to sign the initial Armed Forces Community Covenant. On 6 June 2023, North East Lincolnshire Council re-signed the Covenant in it's own right to continue to pledge support to our Armed Forces Community.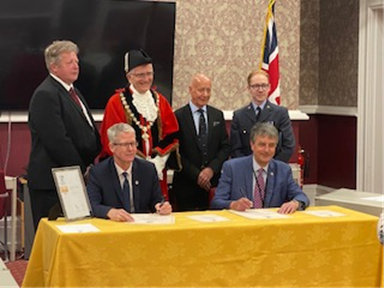 Our Armed Forces and Veterans' Charter encourages public bodies and partner organisations to support in-service and ex-service personnel from the military and the Merchant Navy, their families, veterans and carers.
Access to social and rented housing, retraining for employment, and support groups for servicemen and women suffering from post-traumatic stress disorder are just a few of the issues specific to veterans which the Charter addresses through better joined-up working between agencies.
The Armed Forces Covenant is a statement of mutual support between our civilian community and our local Armed Forces Community.
For more information go to Armed Forces Covenant.
North East Lincolnshire Council was awarded the Gold Award under the Defence Employer Recognition Scheme in July 2021.
The DERS encourages employers to support defence and inspire others to do the same. As an organisation, we pledge, demonstrate and advocate support to defence and the armed forces community and align our values with the Armed Forces Covenant.
Annual report and action plan
Annual Report 2022 -23 (Word, 132KB)
The Armed Forces Major Events Team (AFMET)
The Armed Forces Major Events Team (AFMET) are best known for the delivery of the armed forces weekend North East Lincolnshire, they also support the armed forces community throughout the year. Offering facilities within The Hive (Knoll House, Knoll Street, Cleethorpes) as a one-stop-shop where the community can come together to receive direct support by professional services all under one roof. They are the catalyst in bringing together, and working tirelessly for, the civil and military communities of North East Lincolnshire.
SSAFA – The Armed Forces Charity
Lifelong support for our forces and their families.
SSAFA can help with social isolation, housing, financial hardship, benefits, relationship breakdown, addiction, mental wellbeing, debt, self-care, loneliness, employment and transition.
Monthly drop in clinics available at The Knoll, Knoll Street, Cleethorpes, DN35 8LS (via Blightly's Coffee Lounge) from 9:30am to 2pm.
Upcoming dates:
12 July
9 August
13 September
11 October
8 November
13 December
For more information, you can contact SSAFA Grimsby & Cleethorpes Division on 01472 278140 or email [email protected]
Veterans' Gateway
There is a huge network of organisations supporting the Armed Forces community, so finding the right one for your needs can be tricky. The Veterans' Gateway make it quick and easy by being the first point of contact for whatever support you need, whether you are based in the UK or abroad.
Their connection with additional Key referral partners and Information organisations – both within and outside the Armed Forces sector – means they can get you to the right organisation who can help.
Funded by The Armed Forces Covenant, this is the first time a group of this kind has come together formally to deliver a service to help the Armed Forces community.
Go to the Veterans' Gateway.