Care leavers | Education and training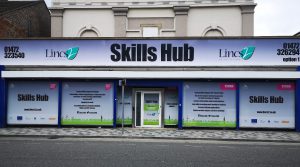 Young People's Support Services (YPSS) and The National Careers Service
We are here to help you move into employment, education or training.
Young People's Support Services and the National Careers Service are both based at the Skills Hub on Freeman Street, Grimsby and help people into employment, education or training.
The children in care and new futures team has a person who helps young people who are not in education or employment who is based at the Skills Hub. If you are aged 16 to 21 and unemployed then they can give you information, advice and mentoring support.
If you are unsure of your next steps or what career you would like to have then there is also a YPSS Careers Advisor who can give you guidance. The National Careers Service provides the same service for anybody over the age of 18.
Both of these services can give you help at the Skills Hub, or if you prefer at another venue where you feel more comfortable. They can help you with things like:
career planning, exploring options and making decisions about suitable careers/jobs and the routes to achieve these
understanding an individuals skills and abilities and how best to apply them
completing a CV
preparing for interviews
building confidence and self-esteem
Where to go for help
Driving lessons
We will fund driving lessons if you are 17 to 20 years old and in education, training or employment. Initially 10 lessons will be booked with further lessons once you pass your theory test with a maximum of 20 lessons in total.
Lessons will not be booked if you are known to misuse cannabis, drugs or alcohol on a regular basis as safety has to be the first consideration. Any exceptions will need to be evidenced through the pathway plan.
Ask for help
If you can't find the help you need in our local offer or you just need some more information then you can get in touch using our Care Leavers support request form .
Related content
Contact details
Children in care and new futures team, Civic Offices, Knoll Street, Cleethorpes, North East Lincolnshire, DN358LN
Contact us: Care Leavers support request
Telephone: 01472 325232