Phone 'n' ride
Phone 'n' ride is an on demand bus service managed by ENGIE in partnership with North East Lincolnshire Council. Unlike traditional bus services, Phone 'n' ride has no fixed route or timetable – you tell us where you want to go. Phone 'n' ride operates using three buses in both the rural and urban areas of North East Lincolnshire.
All of our vehicles are low floor suitable for wheelchair access, but are not suitable for large powered scooters.
Registration
You must register with us to use the Phone 'n' ride service but registering is very easy. You can either complete the Online registration form or alternatively you can contact the Phone 'n' ride team by telephone.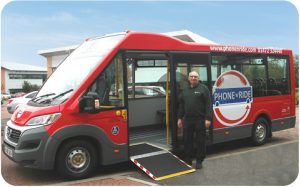 Registration is FREE and will only take 5 to 10 minutes. The only eligibility criteria we use is that passengers must be able to get on and off the bus with only minimum assistance. Holders of a valid national concessionary fare pass are entitled to use the service in line with the rules governing the scheme.
Phone 'n' ride times
Monday to Saturday between 7 am and 7 pm (Christmas, Easter and Bank Holiday times may differ).
Phone 'n' ride bookings
Bookings can be made Monday to Friday between 8.30 am and 5 pm by telephoning our contact centre on 01472 324440.
North East Lincolnshire Council in partnership with ENGIE collects and processes your personal data for the purpose of allowing you to arrange transport through the Phone 'n' Ride on-demand bus service. We will process your personal data in accordance with the General Data Protection Regulation (GDPR) and only disclose your personal data to the operator of the on-demand bus service, unless required to do so under the General Data Protection Regulation (GDPR). For further details about the processing of your personal data please see the Full Privacy Notice in the related documents section below.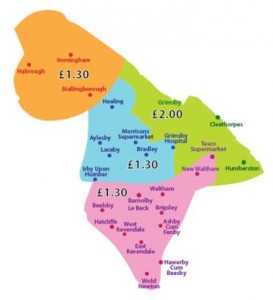 Rural Zone

Single Adult – £1.30
Single Child – £0.65

Urban Zone

Single Adult – £2
Single Child – £1

e.g. any journey made wholly within the green urban zone will cost £2.00, journeys crossing the pink and blue zones cost £2.60, a journey crossing the orange and green zones would cost £3.30.
Transport Officer, Phone n Ride, New Oxford House, 2 George Street, Grimsby, North East Lincolnshire, DN31 1HB
Email: phonenride@nelincs.gov.uk
Telephone: 01472 324440
Opening times: Monday to Friday 8.30 am to 5 pm, except bank holidays
Please note:
The code of conduct leaflet is currently being updated with the following information.
IMPORTANT NOTE – Should a journey no longer be required please telephone the Contact Centre at least 24 hours before departure. The earlier we are informed the more customers can take advantage of the service.
Should the cancellation be out of Contact Centre operating hours 8.30 am to 5 pm (Mon – Fri), please call Essential Fleet Services on 01507 603417.