Phone 'n' Ride
Phone 'n' Ride service
Phone 'n' Ride is an on demand bus service with no fixed route or timetable. You make the bookings and tell us where you want to go.
There are three buses in both the rural and urban areas of North East Lincolnshire. All of our vehicles are low floor suitable for wheelchair access, but are not suitable for large powered scooters.
The service runs from Monday to Saturday between 6:30am and 6:30pm.
Face coverings
There is no longer a legal requirement to wear a face covering when travelling with Phone n Ride. The current government guidelines suggests that people continue to wear a face covering in crowded and enclosed spaces where they may come into contact with other people they do not normally meet.
Register or book a journey
You can register and book a journey using our online portal:
You can also register and book a journey by telephone on 01472 324440 from Monday to Friday, 8:30am to 5pm (except bank holidays).
Journeys can be booked up to 14 days in advance.
There will be no service on Monday 2 May 2022 due to this being a bank holiday.
Group bookings
All group bookings are to be made via the Phone n Ride team by calling 01472 324440 or by email at phonenride@nelincs.gov.uk. Please make it clear the request is for a group booking when contacting us.
Group booking guidelines:
At least 5 people travelling together between any two locations within the Phone n Ride operation area at the same time during normal operational hours.
Maximum vehicle capacity is 14 people, and there is also a space for a wheelchair (subject to an assessment). Larger groups may be able to be accommodated on multiple vehicles (please ask our team for advice about this)
A group booking can be made in advance of the normal 14 day booking window, so please let the team know in plenty of time.
One member of the group should be nominated as the 'group leader', they will be responsible for making the booking and notifying the service of any changes. The group leader will need to be registered with Phone n Ride, there is no requirement for other members of the group to also be registered.
Whilst the Operations Team will make every effort to help with your journey request, the service has limited capacity and there is no guarantee that the request will be successful.
All passengers travelling agree to abide by the guidelines set out in the Passenger User Guide.
Cancel a journey
You can cancel your journey using the Phone n Ride online portal .
You can also cancel your journey call the Booking Team on 01472 324440.
Journeys must be cancelled at least 24 hours before you are due to travel. The earlier you notify of the cancellation, the easier it is for the booking team to support other passengers with their travel.
If you need to cancel your journey outside of opening hours, 8:30am to 5pm, then call the team and leave a message stating your name, date and time of the journey.
Cost of a journey
Fares are based on zones and are shown on the fare map. All fares shown on the map are single adult fares. The maximum a one way journey will cost £3.30.
A journey made in the green zone would only cost £2
A journey crossing the pink and blue zones would cost £2.60
A journey crossing all zones would cost £3.30
Holders of a valid National Concessionary Fare Pass can use the Phone 'n' Ride service for free in line with the rules governing the Scheme.
Fare map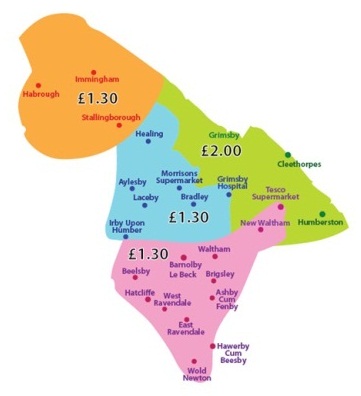 Using the service
On the day of travel please make sure you arrive at your agreed pick up point 10 minutes before the time agreed. Please wait until 10 minutes after that time before contacting the team if the bus has not arrived.
The bus will always stop in a safe place for the scheduled pick-up and drop-off location. If there is an obstruction or the pick-up or drop-off location is unsafe the bus will park at the closest safe place.
Comments and suggestions
The Phone 'n' Ride service always welcomes comments and suggestions from passengers about their journeys. We are committed to reviewing the service in line with the passenger's comments and suggestions.
To tell us what you think of the service complete our Phone n Ride feedback form or a Passenger Comment Card available on the bus.
For any accidents, incidents or driver feedback contact the service operator, Stagecoach East Midlands, on 0345 6050605.
Data Protection
We collect and process your personal data to allow you to arrange transport through the Phone 'n' Ride service. We will process your personal data in accordance with the General Data Protection Regulation (GDPR) and only disclose your personal data to the operator of the service.
For further details about the processing of your personal data please see the Full Privacy Notice below or go to our Data protection page.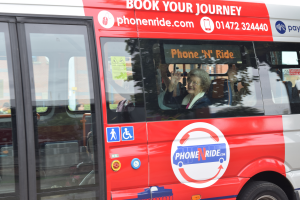 Related documents
Phone n Ride Leaflet – Print Out (PDF, 1MB)
Phone n Ride Leaflet – Easy to Read Version (Word, 144KB)
Phone n Ride Passenger User Guide – Print Out (PDF, 1MB)
Phone n Ride Passenger User Guide – Easy to Read Verison (Word, 20KB)
Phone n Ride Privacy Notice (PDF, 371KB)
Braille leaflets can be requested by email at phonenride@nelincs.gov.uk or by telephone on 01472 324440.
Contact details
Phone n Ride, New Oxford House, 2 George Street, Grimsby, North East Lincolnshire, DN31 1HB
Email: phonenride@nelincs.gov.uk
Telephone: 01472 324440
Opening times: Monday to Friday 8:30am to 5pm, except bank holidays
Telephone: 01472 313131