Phone 'n' Ride
Christmas and New Year service information
Thursday 23 December – 6:30am to 6:30pm
Friday 24 December (Christmas Eve) – 7:30am to 5:30pm
Saturday 25 December (Christmas Day) – No Service
Sunday 26 December (Boxing Day) – No Service
Monday 27 December (Bank Holiday) – No Service
Tuesday 28 December (Bank Holiday) – No Service
Wednesday 29 December – 7:30am to 5:30pm
Thursday 30 December – 7:30am to 5:30pm
Friday 31 December (New Year's Eve) – 7:30am to 5:30pm
Saturday 1 January 2022 (New Year's Day) – No Service
Sunday 2 January – No Service
Monday 3 January (Bank Holiday) – No Service
Tuesday 4 January – Normal Operating Hours Resume 6:30am to 6:30pm
Phone 'n' Ride service
Phone 'n' Ride is an on demand bus service with no fixed route or timetable. You make the bookings and tell us where you want to go.
There are three buses in both the rural and urban areas of North East Lincolnshire. All of our vehicles are low floor suitable for wheelchair access, but are not suitable for large powered scooters.
The service runs from Monday to Saturday between 6:30am and 6:30pm.
We have a range of safety measures for passengers and drivers, including enhanced cleaning routines and social distancing measures are in place.
Passengers travelling on Phone 'n' Ride buses need to wear a face covering if they are able to do so. Passengers without a face covering will be encouraged to use a scarf or piece of clothing while travelling on board but will not be refused travel.
Face coverings are not required to be worn by those who find it difficult to wear one correctly, such as passengers with breathing difficulties, young children (under the age of 11) or disabled passengers. If you are unsure if you need to wear one contact us for advice.
Face coverings
In line with changes to Government guidance, passengers travelling on the Phone 'n' Ride Service will be required to wear a mask or a facial covering with effect from 30 November 2021 (unless exempt).
Social distancing is not mandatory, therefore all seats (with expception to the seat closest to the driver) will be available.
Register or book a journey
You can register and book a journey using our online portal:
You can also register and book a journey by telephone on 01472 324440 from Monday to Friday, 8:30am to 5pm (except bank holidays).
Journeys can be booked up to 14 days in advance.
Cancel a journey
You can cancel your journey using the Phone n Ride online portal .
You can also cancel your journey call the Booking Team on 01472 324440.
Journeys must be cancelled at least 24 hours before you are due to travel. The earlier you notify of the cancellation, the easier it is for the booking team to support other passengers with their travel.
If you need to cancel your journey outside of opening hours, 8:30am to 5pm, then call the team and leave a message stating your name, date and time of the journey.
Cost of a journey
Fares are based on zones and are shown on the fare map. All fares shown on the map are single adult fares. The maximum a one way journey will cost £3.30.
A journey made in the green zone would only cost £2
A journey crossing the pink and blue zones would cost £2.60
A journey crossing all zones would cost £3.30
Holders of a valid National Concessionary Fare Pass can use the Phone 'n' Ride service for free in line with the rules governing the Scheme.
Fare map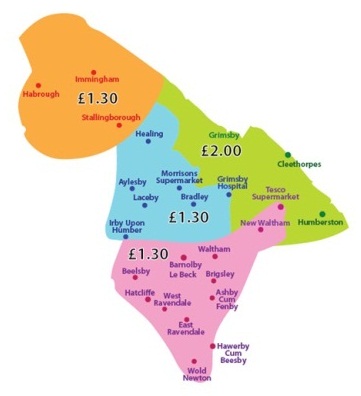 Using the service
On the day of travel please make sure you arrive at your agreed pick up point 10 minutes before the time agreed. Please wait until 10 minutes after that time before contacting the team if the bus has not arrived.
The bus will always stop in a safe place for the scheduled pick-up and drop-off location. If there is an obstruction or the pick-up or drop-off location is unsafe the bus will park at the closest safe place.
Phone n Ride Christmas Shopper Competition 2021
Travel with us for shopping during November and December 2021 to be in with a chance to win a "Christmas Hamper". To enter the competition please state shopping, as your trip purpose when making your booking with the team or online.
The lucky winner will be advised on Monday 20 December 2021. Terms and Conditions apply.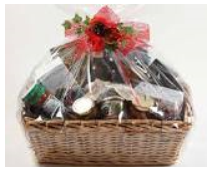 Comments and suggestions
The Phone 'n' Ride service always welcomes comments and suggestions from passengers about their journeys. We are committed to reviewing the service in line with the passenger's comments and suggestions.
To tell us what you think of the service complete our Phone n Ride feedback form or a Passenger Comment Card available on the bus.
For any accidents, incidents or driver feedback contact the service operator, Stagecoach East Midlands, on 0345 6050605.
Data Protection
We collect and process your personal data to allow you to arrange transport through the Phone 'n' Ride service. We will process your personal data in accordance with the General Data Protection Regulation (GDPR) and only disclose your personal data to the operator of the service.
For further details about the processing of your personal data please see the Full Privacy Notice below or go to our Data protection page.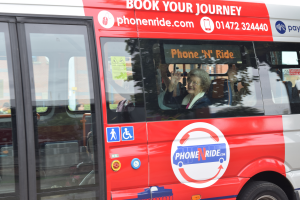 Related documents
Phone n Ride Leaflet – Print Out (PDF, 1MB)
Phone n Ride Leaflet – Easy to Read Version (Word, 144KB)
Phone n Ride Passenger User Guide – Print Out (PDF, 1MB)
Phone n Ride Passenger User Guide – Easy to Read Verison (Word, 20KB)
Phone n Ride Privacy Notice (PDF, 371KB)
Braille leaflets can be requested by email at phonenride@nelincs.gov.uk or by telephone on 01472 324440.
Contact details
Phone n Ride, New Oxford House, 2 George Street, Grimsby, North East Lincolnshire, DN31 1HB
Email: phonenride@nelincs.gov.uk
Telephone: 01472 324440
Opening times: Monday to Friday 8:30am to 5pm, except bank holidays
Telephone: 01472 313131