Garden waste
We offer a paid for garden waste collection service which runs from early April 2018 until the end of March 2019 at a cost of £35 per bin, which is payable each year.
Please note that there is a break in this service over the winter months, from the end of November/Start of December until mid-February. To check your collection dates go to our collection schedule page.
By agreeing to pay for the service you will be accepting the terms and conditions of the service which can be found at the bottom of this page.
No more sign ups for 2018/19 service
Sign up and payment for the garden waste collection service in 2018/19 is no longer available.
Payment for next years service, beginning in April 2019 and ending in March 2020, will be available to you from 1 March 2019. Check back for more details.
Change your address for garden waste collections
If you have changed address please contact us via our Garden waste change of address form.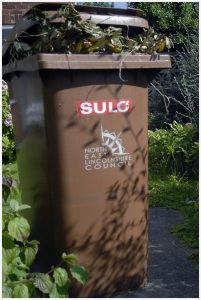 If you cannot find what you are looking for above you can call the number below and select the relevant option:
Telephone: 01472 326288
Bin or box collections including missed collections
New or replacement bin, recycling box or arrange a repair
Recycling enquiries
Bulky waste, white goods collection or clinical waste & sharps collection
Community recycling centres
Domestic asbestos disposal
Social media: Twitter general enquiries @NELCouncil
Opening times: Monday to Friday 8.30 am to 5 pm except bank holidays